Easter Weekend Goes to the Birds of 'Rio!'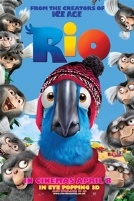 This weekend was a massive one for the angry birds with a gross of $26.8 million as kids flocked to theaters with their parents.  With $81.3 million after just 10 days of release, Rio had a truly incredible Easter weekend as it tops the chart for the 2nd consecutive week with a 3-D enhanced revenue boost and a minimal 32% second weekend drop.
Lionsgate's Tyler Perry's Madea's Big Happy Family with $25.75 million proves that Tyler Perry is one of the most consistently performing filmmakers on the planet.  His films have generated over half a billion dollars in domestic revenue and the 10 feature films he has produced and directed since 2005 and have had an average opening weekend of $23.5 million.  This 11th film shows that Madea is a hugely popular character and Perry's films with her name in the title have been the most popular with audiences.  An $11,254 per-theater average is the strongest in the Top 20 and clearly demonstrates the seat-filling draw of Madea.
Fox's Water for Elephants starring Twilight's Robert Pattinson is grabbed a third place debut with a better-than-expected gross of $17.5 million.  Based on the best-selling novel by Sara Gruen, the film also stars Reese Witherspoon and Academy Award winner Christoph Waltz. The film has major female appeal and is likely to become a long term performer providing an alternative to the summer blockbuster fare that is on the horizon.
Universal's Hop hops into its 4th weekend taking full advantage of kids having candy and the Easter Bunny on their minds.  An Easter-boosted gross of $12.5 million saw the Russell Brand film jump 16% over last weekend and put Hop over the $100 million mark.
Rounding out the Top 5 is the horror mainstay Scream 4 from The Weinstein Co. with $7.1 million and a (typical for the horror genre) second weekend drop of 62%.  The film has earned $31.1 million to date.
Opening just outside of the Top 5 with $6.4 million is Disney Nature's African Cats. The documentary continues an Earth Day tradition as started with 2007's Earth and 2010's Oceans films.  Oceans played in 1,206 theaters last year and posted a solid $6.1 million debut.  These cats landed on their feet with a gross that is consistent with the typical performance of this series of nature documentaries.
This is the second consecutive up weekend at the box office vs. last year's comparable frame which was a slow one with How to Train Your Dragon in its 5th weekend taking 1st place with $15.3 million and The Back-up Plan in 2nd place with just $12.2 million.
Weekend Box-Office Estimates
Top Movies – For Easter Weekend of April 22, 2011
    Movie     Weekend Gross     Total to Date
1     Rio (G)     $26.8M     $81.3M
2     Tyler Perry's Madea's Big Happy Family (PG-13)     $25.75M     $25.75M
3     Water for Elephants (PG-13)     $17.5M     $17.5M
4     Hop (PG)     $12.5M     $100.5M
5     Scream 4 (R)     $7.15M     $31.1M