'Easy A' to get an A at the Box Office!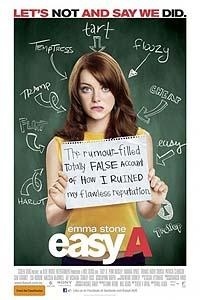 Sony's Easy A to get an Easy A (and close to $30 million) from audiences this weekend as tweens, teens and John Hughes fans everywhere have much to rejoice about in this innovative, quirky and fun riff on the classic Nathaniel Hawthorne tale of "The Scarlett Letter."  Emma Stone, who first stole hearts as the object of Jonah Hill's teen desire in "Superbad," plays a modern day Hester Prynne, but with a major twist and to great effect. 
Director Will Gluck and screenwriter Bert V. Royal clearly have affection for the classic John Hughes 80's era teen comedies and they wear that affection on their cinematic sleeves; much to the delight and benefit of the audience.  Edgy dialogue ripped straight from the "Juno" playbook combined with an offbeat visual style, appealing performances and direct references to the films of the aforementioned Hughes make this unadulterated catnip for the high school crowd.  
There is certainly a whole bunch of evil going on in theatres of late.  First we had The Last Exorcism, then we got Resident Evil and now we have Devil from Universal Pictures.  Advertised as coming from the mind of M. Night Shyamalan and likely causing much consternation over at the Otis Elevator company, this film may do for the elevator what Jaws did for the beach.  Clocking in at a taut 80 minutes and Boasting a terrifically creepy ad campaign, Devil will likely scare up grosses around $20 million while simultaneously increasing the use of stairwells everywhere.
Ben Affleck shows off major directing chops and that his Gone Baby Gone was no fluke in Warner Bros.' brilliant The Town which co-stars the Oscar-nominated Jeremy Renner (The Hurt Locker), Mad Men's Jon Hamm and Frost/Nixon's Rebecca Hall in a story of friendship, brotherhood and the consequences of the criminal life.  The film has Oscar written all over it and should appeal to sophisticated audiences looking for a beautifully-acted, thought-provoking drama that does not skimp on the action and should thus wind up near the top the chart with about $18 million.  Long term prospects look solid with strong word-of-mouth likely to propel the film well into the fall movie season.
Milla Jovovich, who so effectively packed theaters last weekend in Sony's Resident Evil: Afterlife, has been backed up by solid 3-D and IMAX powered grosses all week long and will likely remain in the fight at No. 4 with a gross in the $10 to $12 million range.
Rounding out the top five should be the animated 3-D wolf tale Alpha and Omega from Lionsgate, with a likely take of just under $10 million.