Watch Tom Cruise Relive the Same Battle Over and Over in the 'Edge of Tomorrow' Trailer
If you've ever watched the film Groundhog Day, and thought that the only thing that could possibly make it more enjoyable was an alien invasion or some massive explosions, you're in luck. Tom Cruise's upcoming film Edge of Tomorrow combines all of that time-loop fun of Groundhog Day with the aliens-versus-robots excitement of Pacific Rim and a dash of the super powered metal exoskeleton that Matt Damon has to wear in Elysium. All of your favorite movies, condensed into one convenient, generically titled package! 
In Edge of Tomorrow, Cruise plays Lt. Col. Bill Cage, a soldier who discovers he can't die, and is forced to re-live his final battle over and over again. Cage uses this curse to grow more capable and competent each time. Emily Blunt plays a Special Forces soldier named Rita (which we hope is a reference to Andie McDowell's like-named character in Groundhog Day), who trains and mentors Cage in order to use his power to defeat the aliens, who just so happen to have the same special ability as Cage. The film, which also stars Jeremy Piven and Bill Paxton, is based on a Japanese novel by Hiroshi Sakurazaka titled All You Need Is Kill… which, though awkward, is a much better title than Edge of Tomorrow.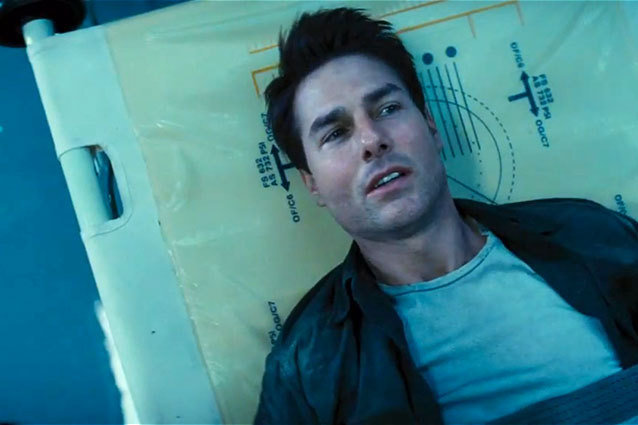 JoBlo.com/YouTube
With four different superhero films and the next installments of the Transformers franchise on the way, the summer of 2014 is going to be crowded with big blockbuster action films all vying to be come the "movie of the summer." Presumably, Edge of Tomorrow's attempt to keep up with all that competition is to combine several elements from other, more familiar movies in order to entice movie-goers into choosing it over the newest X-Men. It has the benefit of being a stand-alone film, which separates it from all of the sequels, threequels, and seven-quels that are coming out next year, but has the comfort of a well-known leading man and plot elements that have been successful in other movies. Unfortunately, Edge of Tomorrow's trailer just makes it seem like a retread of films we've already seen, which could turn off its potential audience. 
Edge of Tomorrow will hit theaters in 3D and IMAX 3D on June 6, 2014.