Ellen DeGeneres in 'Finding Nemo 2': What's in Store for Pixar's Sequel Future?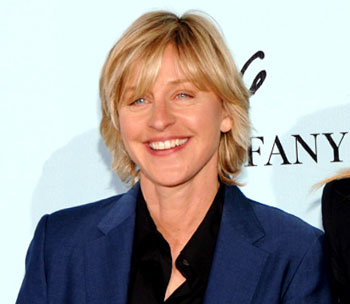 A few weeks after Pixar's Brave hit theaters — the studio's first original film since 2009's Up — word leaked that the studio was moving forward on a long-rumored, yet still shocking project: Finding Nemo 2. According to early reports, the sequel to Pixar's Oscar-winning cartoon (and the studio's second highest grossing picture to date, with a domestic total of $339.7 million) would return to the undersea world with original director Andrew Stanton in tow. Assumptions were made that the other fish from Finding Nemo's sea would also return, but on Wednesday, one finned player has been nearly confirmed. The Hollywood Reporter reveals that Ellen DeGeneres is in final talks to reprise her role as the scatterbrained blue tang fish Dory.
DeGeneres' return should be music to the ears of Finding Nemo fans, yet the initial news that Finding Nemo 2 was moving forward left many with a bad taste in their mouths. Feelings were mixed across the Internet; Skeptics wondered how even the brilliant minds of Pixar could continue a wrapped up story like Finding Nemo, while devotees pointed to history as evidence for why the film could be great. Stanton himself has been lukewarm to the idea of a Nemo sequel, stating in an interview earlier this year that, "[A sequel has] always kind of put a bad taste in my mouth because I never planned for that… We're not against a sequel being made as long as it's a story we love so much that we'd be dying just to make it, so we're just waiting for stories to tell us if it's worthy of doing. Right now, I've never been able to think of anything beyond what Nemo was on its own." Pixar, a team driven to tell great stories at any cost, must have figured something out.
RELATED: Andrew Stanton to Direct Pixar's 'Finding Nemo 2'
With Toy Story 2 & 3 and Cars 2 in the past, Monsters University, the upcoming prequel to Monsters Inc, prepping for a 2013 release, Pixar is officially in the franchise business. After nearly a decade and a half of producing original animated films, the brand recognition is finally too good to pass up. Is it selling out? Pixar has never had a problem grossing big bucks with their original films (the original Finding Nemo obvious evidence), but Toy Story 3 standing atop the list with a massive $415 million is hard to ignore. As the past few summers have indicated, franchise building is the name of the game in modern Hollywood and it's only natural that Pixar would follow suit.
But idea of making sequels isn't selling out. Or rather, it doesn't have to be. With a foundation of creative success and innovation, obliterating established expectations that come hand in hand with big screen animated entertainment, Pixar has an opportunity to redefine the follow-up. A season full of sequels might make a movie-buff groan, but with Pixar at the wheel, there's reason to believe each installment could be a Godfather: Part II. Hopefully the return of Ellen DeGeneres to Finding Nemo 2 signals that Stanton intends to bring back the gang from the first movie. What that doesn't overtly mean is that it'll be a rehash (read: Marlin won't necessarily be attempting to find Nemo for a second time). Cars 2 may have been a disappointment in the entertainment department, it was a sign that Pixar knows how to tangentially explore the worlds of their films with sequels that feel more like spin-offs.
RELATED: Tom Hanks Confirms Toy Story 4?
Even more importantly, Pixar has an understanding of how to evolve their characters in sequels. Toy Story 3 was another important step in the company's methodology. The first Toy Story was a fun cartoon aimed squarely at young kids, with a bit of adult humor thrown in for good measure. Toy Story 2 spun the dynamic between Woody and Buzz on its head, but it was Toy Story 3 where Pixar found a poignant entrance point to the series, focusing on Andy's fond farewell to toys, home, and childhood. Finding Nemo 2 — and all Pixar sequels — have this opportunity.
If that didn't sell you, don't fret: Pixar isn't entirely out of the original movie business. In 2014, the company will unleash The Good Dinosaur, a film set in a world where dinosaurs never died off. 2015 will see the release of Up director Pete Doctor's "The Untitled Pixar Movie that Takes You Inside the Mind," and even further down the line is Lee Unkrich's (Toy Story 3) Día de los Muertos-inspired picture. Interspersed, we'll see many a sequel, but no doubt the same level of creativity. While the number twos and threes will trigger audiences nostalgia, potentially leading to higher box office grosses, they don't mark a dip in style or substance. It's Pixar. We're in good hands.
[Photo Credit: WENN.com, Walt Disney Pictures]
---
From Our Partners:

Grammys: 11 Most Memorable Gifs (Celebuzz)

20 Worst Outfits at the Grammys (Vh1)