Ellen Page Joins Skarsgard and Sundance-Breakout Marling in 'The East'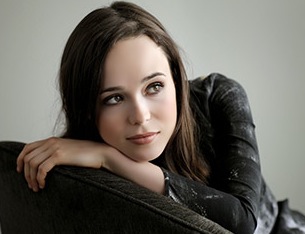 After being nominated for an Oscar for 2007's Juno, it would have been easy for Ellen Page to nab any major role she wanted. She was an It-Girl—but thankfully, she didn't let the new found fame go to her head. Page has found balance in her early and already-expansive career, bouncing between blockbusters like Inception, off-beat indies like Super and middle road pictures like Drew Barrymore's Whip It.
Her next continues the trend of keeping us on our toes: she'll join Alexander Skarsgard (I hear the masses collectively swoon every time I mention his name) and Another Earth star Brit Marling in a movie titled The East. Written by Marling and director Zal Batmanglij (who previously co-wrote in the other Sundance 2011 Marling-vehicle Sound of My Voice), The East follows an big business security firm's undercover agent (Marling) as she infiltrates an anarchist organization known as "The East." Skarsgard plays a member of the group who becomes enamored with Marling, while Page will play Skarsgard's former lover who isn't too thrilled by Marling's presence.
As much as I enjoyed Juno, I'm happy to see Page try her hand at something a little more "adult." This could be a meaty role for the actress and the writing pair of Marling/Batmanglij have proven with their previous film that they're fully capable of building tension within small groups and spaces (Sound of My Voice revolves around the similar idea of a documentarian infiltrating a cult). That said, if the role requires her to use another hamburger phone, that's cool—just as long as they let Page do her stuff.
Source: Variety