Emma Watson's '50 Shades of Grey' Casting the Subject of Anonymous' Latest Hacking Job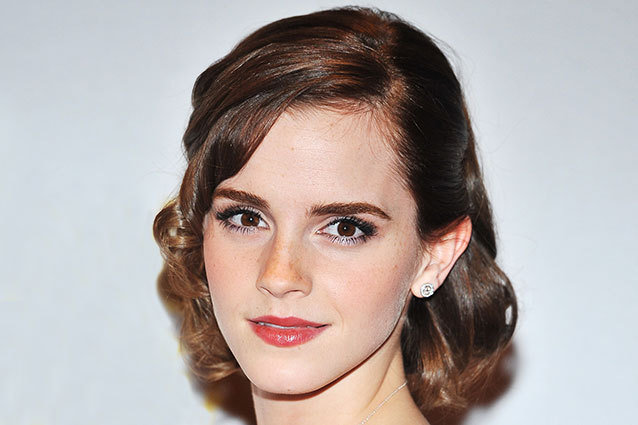 After a decade of highly controversial political crusades — attacking governmental and religious regimes, instituting movements of vigilantism against corrupt or criminal figures, constructing an identity on the maxim, "We do not forgive. We do not forget." — it seems that the hacktivist group Anonymous is kind of lowering the bar on what it considers worthy of its time.
Dropping quite a few notches in severity from the likes of Guy Fawkes mask-laden Zuccotti Park protests, the group has reportedly apprehended the files of Germand film studio Constantin Film and publicized notes that link actress Emma Watson to the starring role of Focus Features' developing Fifty Shades of Grey movie adaptation.
RELATED: Emma Watson Was 'The Voice in My Head', But Now It's Emily Blunt
The news, first revealed by The Hollywood Reporter, that Anonymous and a partnering group M3du5a have hacked into Constantin seems to be confirmed by a Twitter exchange between the two institutions, posted on Friday:
pastebin.com/ZwEbYU0X– #Constantin #Film hacked again! UPDATE! New Passwords! @gulli_com @ehackernews @anonnewsde @thehackersnews
— TEAM M3DU5A (@T3AMM3DU5A) March 15, 2013
Ostensibly, the act can be deemed a symbolic message about the expansive capabilities of Anonymous — a message to international film studios that no information is beyond the group's reach. But we're inclined to believe, instead, that Anonymous is simply made up of a whole lot of Fifty Shades fans. Duplicitous governments can relax for a while — until we know for sure who will take on Anastasia Steele, Anonymous is tied up in this new mission. They're taking on the author of the book, E.L. James, who currently denies the information unearthed by the group:
No casting decisions have been made yet.

— E L James (@E_L_James) March 15, 2013
RELATED: Krysten Ritter Joins the 'Fifty Shades of Grey' Casting Speculation Frenzy
So what about Watson as the choice? Is there too much inherent strength in the young actress to pin her as an the submissive Steele? Or will she breathe a new vigor into the character, transforming her from a pitiable stick figure to an admirable heroine for the movie? The community of Internet anarchists is on the edge of its seat waiting to find out.
Follow Michael Arbeiter on Twitter @MichaelArbeiter
[Photo Credit: WENN]
---
You Might Also Like:


Topanga's Revealing Lingerie Shoot: Hello '90s!


Stars Who Have Lost Roles For Being Too Hot (Celebuzz)