Emmy Rossum in 'Beautiful Creatures': Part Effie Trinket, Part Siren, & Three Parts Sexpot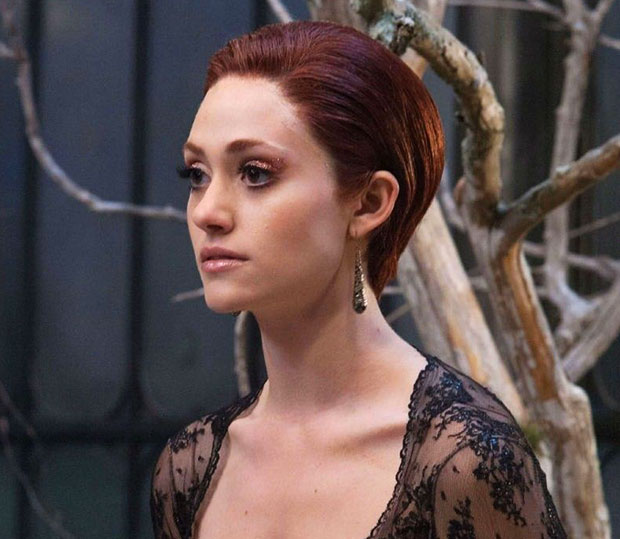 Beautiful Creatures comes to us courtesy of the world of Young Adult fiction. We find two star-crossed lovers at its core, a mortal boy and a caster, or a witch if you want to get derogatory about it. (In the world of Beautiful Creatures, the word "witch" is like "calling an athlete a jock or a scholar a nerd" says director Richard LaGravenese.) These two lovebirds, Lena and Ethan, are threatened by Lena's own fate: she's on the brink of becoming just like her cousin Ridley (Emmy Rossum), who has been claimed by darkness. 
During the exclusive New York Comic Con sneak peek at the new romantic drama gave us a good look at the chemistry between the film's two young stars
Alice Englert
and
Alden Ehrenreich
, the magnificence of the actors behind Lena's parents (
Emma Thompson
and
Jeremy Irons
), and of course, Rossum's magnificent wardrobe and devil-may-care attitude.
The actress, who's the embodiment of the dark side of witchdom, rocks some seriously fantastical duds in the flick. The Hunger Games' Effie Trinkett had better watch her back, because Rossum's not your average Southern belle. Her eyes are swathed in glitter eye shadow, her billowing dresses seem to take a page out of Dark Shadows, her more scandalous looks have creative cuts in all the right (and unexpected) places, and her attitude carries it all. 
But if her multicolored, voluminous skirts aren't enough of an indication of her intoxicating character, Rossum gave some context to her "sophisticated aristocrat." "Well, she's a siren, so there will be some singing there," she says. And we can bet that singing will be sultry, as Rossum's character is known for her penchant for entrapping men with her mind and her many other feminine wiles. (Let us not forget her "oral fixation" that has her hanging onto a lollipop or eating some delicious delicacy at every turn. 
From Our Partners:

NY Comic-Con: 34 Crazy Costumes
(Moviefone)

(Moviefone)