'Ender's Game' Trailer Promises Some Serious Post-Summer Sci-Fi Spectacle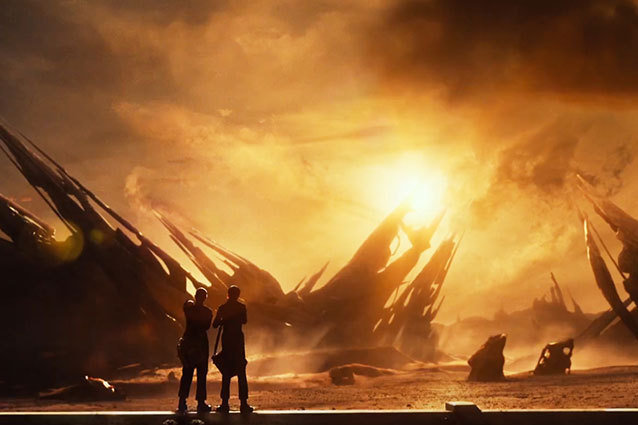 After a timid introduction to the world of Ender Wiggin and Earth's battle against invading alien forces, Ender's Game stars Asa Butterfield, Harrison Ford, and Ben Kingsley step it up a notch in the first full trailer for the highly anticipated Orson Scott Card adaptation. If you thought summer was the season of blockbusters, prepare thyself for Nov. 1.
This early look at Ender's Game focuses expectedly on the book's main setting: a futuristic military training facility known as "Battle School." That's where young Ender (Butterfield) is instilled with the skills to effectively wipe out an extraterrestrial race known as "the Formics." We get a glimpse of their opposing forces, enormous ships spewing flocks of bug-like attackers that rip human planes in two. Luckily, Battle School has Ender, this alternative universe's version of a Halo video game hopped up on gallons of Mountain Dew.
We also get a glimpse of Battle School's zero-gravity tactical simulation. In the hands of writer/director Gavin Hood, it all looks a bit like Tron: Legacy. But in the ultra-sleek future, that might be a good thing. The important thing is that the footage moves like hell — as a great action movie should.
What do you make of Ender's Game? Fans, does it satisfy your imagination? And for you newcomers, does it make a lick of sense?
More:
Harrison Ford Looks a Bit Bored Talking 'Ender's'
Will Orson Scott Card's Politics Affect 'Ender's Game' Success?
Hailee Steinfeld Is Pissed in 'Ender's Game' — PIC
---
From Our Partners:


What Happened to 33 Child Stars (Celebuzz)


40 Most Revealing See-Through Red Carpet Looks (Vh1)