Harrison Ford and Asa Butterfield Sound Bored as Hell Explaining 'Ender's Game'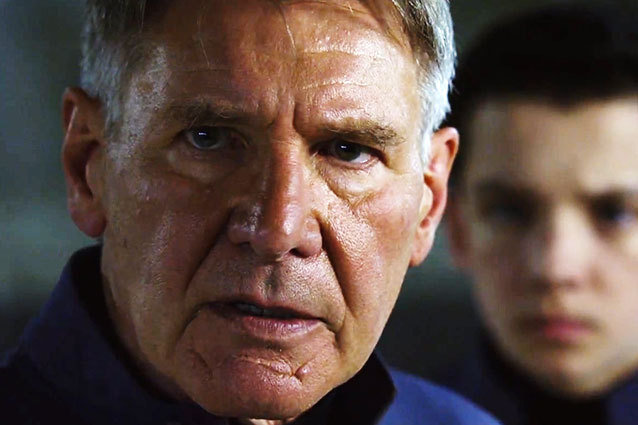 Very little can impact the fact that I'm pumped for Ender's Game.
Having read the book in my younger days, Orson Scott Card's militaristic science fiction classic was relatable. Young Ender Wiggin stood in for myself and every kid who dreamed of exploring the universe (or at the very least, go to Space Camp). The novel delivered exhilarating action on the page, complicated relationships, and a challenging conclusion that flips everything we've devoured up to that point on its head. When previous life lessons came in the form Boxcar Children adventures, the final moments of Ender's Game were a big deal.
You can see why my anticipation for the long-gestating adaptation, starring Hugo's Asa Butterfield, Harrison Ford, Ben Kingsley, Hailee Steinfeld, is through the roof. So why are invisible forces trying their hardest to make me give up on the movie?
The big picture moral questions of Card and his controversial world views aside, our first glimpse at Ender's Game footage comes packaged with an introduction by Butterfield and Ford that could only be more phoned in if it was a voicemail message played over black. In a half sleepy state, the two give us a rundown on their characters before unveiling a snippet of clips from the film. The footage looks dazzling, juxtaposing the steel backdrops of Ender's Battle School with bright colors and fast-paced, anti-gravity action.
Then there are Butterfield and Ford, who try their best to sell the teleprompter lines. When Ford tells us he plays "Colonel Hyrum Graff," it looks like he's about to follow it with, 'What is this s**t?!' I love me some rough, gruff Harrison Ford, but c'mon man. Muster up some enthusiasm!
Watch the video below for Butterfield and Ford's impressively canned presentation and a hint at the impressive footage to come. The full (intro-less) trailer premieres next week.
Follow Matt Patches on Twitter @misterpatches
More:
'Ender's Game' Poster Is a Window to the Future
Is Controversy Brewing for 'Ender's Game'?
Ford Hits a Home Run in '42'
---
From Our Partners:


What Happened to 33 Child Stars (Celebuzz)


40 Most Revealing See-Through Red Carpet Looks (Vh1)