'Entourage' Movie Picks Up 6 Months After Finale — Where Is That, Exactly?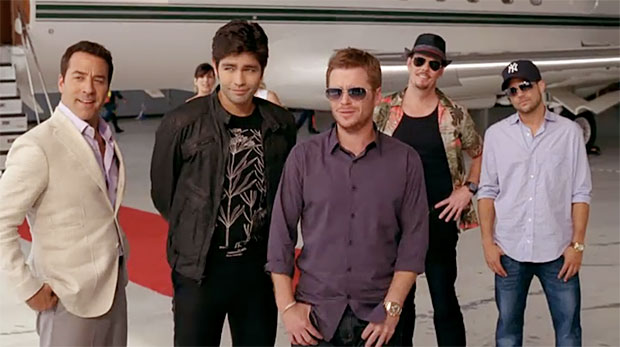 Hug it out, bitch. Whatever your gripes with the mind-boggling, whirlwind series finale of
Entourage
, it's time to set them aside because there's more on the way. That's right, the
Entourage
movie actually has a finished script. And it involves a time jump. 
According to a report from
Deadline
, creator
Doug Ellin
has finished writing the movie, or rather, he will have finished it by Sunday, barring the release of a band of homework-eating dogs, and it takes place six months after the series finale. Still, the movie itself has yet to get the greenlight, though Ellin posits that executive producers Mark Wahlberg and Steve Levinson are just as determined to get the film going at HBO. That means we're going to be waiting at least a little while longer to see this extension of the boys' legacy come to fruition. We're going to need a refresher course. 
In case you didn't commit those final 30 minutes of HBO to memory, here's where we left off with the Entourage boys:
Vince (Adrian Grenier)
: We assume Vinny will probably make another movie someday, but for now, we know he's bested his sudden drug problem and decided he wants a family in New York. He meets a Vanity Fair reporter, Sophie (who's wildly out of his league), and proceeds to not only woo her, but make her the future mother of his little New York tykes after knowing her for a few weeks. They fly to Paris with the titular entourage in tow to start their completely implausible fairy tale life with a fairy tale wedding.
Prediction for Six Months Later: This wedding did not take place. Sophie ran off with a French political writer.
E (Kevin Connolly)
: While the rest of the guys flew to Paris for Vince's wedding, E finally got what he never deserved: Sloane. After knocking her up and sustaining death threats from her powerful father, E is given a leg up by his besties. They all sing his praises to Sloane and she changes her mind at the last minute — just in time for her to meet E on a private plane chartered by Vince to take them "wherever they want to go." (Um, side note: she's pregnant and he wants to start a family with her, shouldn't they be going to New York?)
Prediction for Six Months Later: Sloane and E are nesting and preparing for the arrival of their little one in a West Village town house, but Sloane is depressed and missing her awful, awful family. E will take it upon himself to fix this. 
Drama (Kevin Dillon)
: He still can't get laid and Vince is still cleaning up his messes. Though the
Johnny's Bananas
strike worked, Drama managed to piss off the most powerful man at CBS. Luckily, Vince threw money at the problem, buying Phil Yagoda's forgiveness and support for Drama's passion project: a movie about miners or some other "gritty," sad story.
Prediction for Six Months Later: Drama still can't get laid, but has high hopes for his Comic-Con panel for Johnny's Bananas. His miner movie is happening, but the studio doesn't want him in it. He considers bicep implants as a result. 
Turtle (Jerry Ferrara)
: Like Drama, he hasn't changed much. He's still a mush who cries as Vince and his future wife head into wedded bliss. He is, however, better off than he was when the series started despite losing everything because he's still not great at running a business. Again, Vince rescues his buddy by revealing he kept Turtle's share in the liquor company that he gave up on. He didn't actually miss out on the payout because Vince totally mommed him and is going to let him have his $4 million dollar payout back!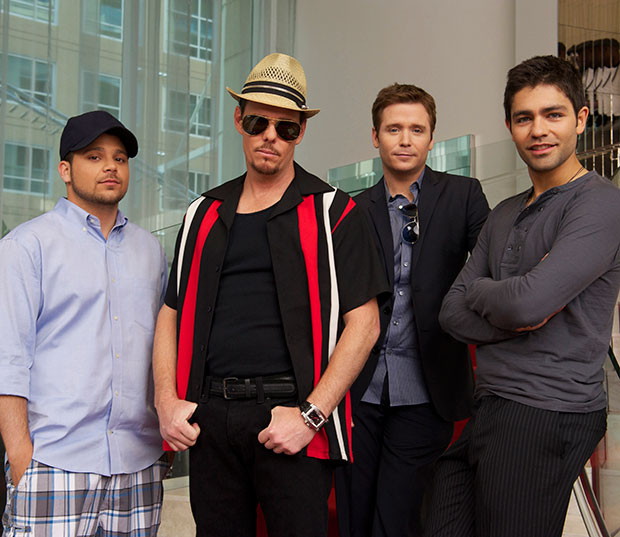 Prediction for Six Months Later:
Turtle has used all of his money on another risky investment. This time he'll stick it out simply out of fear of Murphy's Law. It will strike in the reverse and the investment will go belly up. But don't worry. Vince has money.
Ari (Jeremy Piven)
: After the dastardly wife-stealing Bobby Flay let Mrs. Ari go because she "wasn't ready to date," Ari quit his job in a wave of Italian opera music and whisked his smoking hot wife off to Italy. Where are the kids? Why are you asking these questions? Pipe down and enjoy the view. Just as Ari is taking in the view from his Amalfi Coast villa, the head of Warner Bros. calls and offers him his job. Naturally, we're left on that unanswered question as Ari's forehead turns eight different shades of red. 
Prediction for Six Months Later: Ari went ahead and took the job. His wife kept the Italian villa and what's this? Bobby Flay is single again… 
Are you excited for an Entourage movie?
[Photo Credit: HBO (2)]
More
:
Doug Ellin Promises to Make an 'Entourage' Movie
Five Ways 'Entourage' Keeps Us Hanging On
'Entourage' Series Finale Recap: The End
From Our Partners:

Bill and Giuliana Rancic Share First Photo of Baby Edward Duke — PHOTO
(Celebuzz)

(Celebuzz)