'Escape from Planet Earth': An Exercise in Product Placement — REVIEW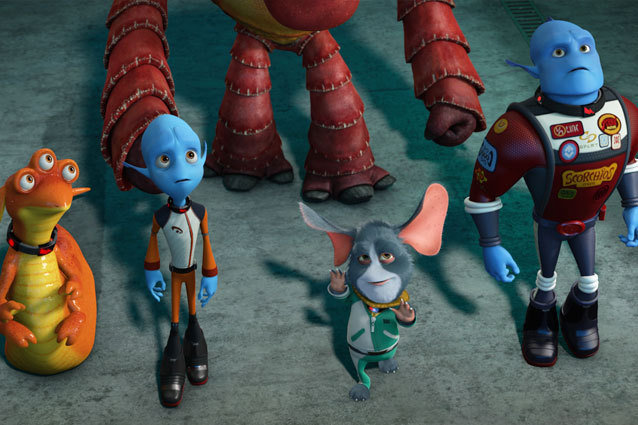 It's an impressive feat for a movie to be strange and forgettable, subversive yet littered with crass product placement. Escape from Planet Earth manages to be all of these things and more. In this world, aliens are abducted by government officials, Roswell is an intergalactic work camp, an Army general is conducting an online affair with a sexy alien lady, and the stoners who work or hang out or whatever at 7-11 ply their new little blue friend with a matching blue Slurpee. Sounds promising, right?
Not entirely. For the most part, the plodding plot is driven by a lackluster sibling rivalry between Gary Supernova (Rob Corddry) and his lantern-jawed brother Scorch (Brendan Fraser). These little blue dudes live on the planet Baab and work at BASA, which is (obviously) Baab's version of NASA. Gary's the nerdy mission control guy who saves his brother's butt when Scorch is off being a bad ass astronaut. A plodding series of events lands them both on Earth, a planet full of violent, devolved creatures where aliens from across the galaxy routinely go missing. There, they find the devious General Shanker (William Shatner) is snatching otherwise peaceful aliens and putting them to work on building a giant weapon that will destroy the universe. The other aliens Gary and Scorch run into are way more interesting and fun than the folks they left behind on Baab — a cafeteria food fight between Roswell employees and the aliens is more entertaining than 90% of the interactions between Gary and Scorch — which is a bummer since Gary's wife Kira (Sarah Jessica Parker) is hot on their heels to rescue them. Lena, the head of BASA, is a lovelorn villainess (Jessica Alba) who would be willing to blow up the world for a hot human with an Elvis pompadour that she met online. She and Kira used to be coworkers but now Lena's like, whatever, now you're a stay-at-home mom! And Kira's like, I will kick your butt. And so on. The female characters in the movie are pretty decent, all things considered.
Still, Escape from Planet Earth is a bit of a mess. Are we rooting for family values? Or railing against how silly humans are? Or constantly, odiously plugging 7-11? There is also auto-tuned music on the soundtrack, although it's not clear if this was yet another invention of the aliens (like the iPhone, Facebook, the Internet, and Pixar, according to one montage) or yet another example of how humans have devolved. Adding to the confusion: a sexy news reporter alien voiced by Sofía Vergara.
Escape from Plant Earth seems like its plot was originally cooked up by some sorta cool goofy dudes — I mean, Steve Zahn and Chris Parnell as stoners who work at 7-11? Pretty funny! — that was then wrangled into something a little more family-friendly. (Vis the website, which is littered with seals of approval from the Parents Television Council and the Dove Foundation.) It's not that it's particularly bad, it's just not something that sticks with you in any meaningful way. The rest of the voice cast is pretty good, like Craig Robinson as a cool talk radio "therapist" alien and Jane Lynch as a one-eyed librarian from the sun with anger management problems. It's just that there's so much other stuff happening that isn't particularly gripping. Like the crux of the entire story. Who cares if Gary and Scorch ever make up? Who cares that Kip thinks his dad is a pantywaist? You really don't. In a world where film-lovers of all ages can be challenged, entertained, and moved by animated film, it's entirely fair to expect more of family films.
(Escape from Planet Earth is available in 3D, but for expediency's sake, I saw the 2D version.)
2.5/5
[Photo Credit: The Weinstein Company]
---
From Our Partners:

'SI's 25 Sexiest Swimsuit Covers of All Time (Vh1)

Pregnant Kate Middleton Bikini Pics Spark Palace Anger (Celebuzz)