Disney World Horror 'Escape from Tomorrow' Can't Possibly Be Real, But There's a Trailer, So Go Figure
It will take at least six theatrical viewings in four different major cinemas, a Blu-ray release, and a signed affidavit by the film's production team and every stockholding member of the Walt Disney company before I believe that Escape from Tomorrow is, in fact, a real movie. It isn't so much the premise — a family's visit to Florida's famed theme park Disney World goes horribly awry when elements of dark supernaturalism come alive with bloodlust — that incites my skepticism (although that one's a doozy), but the horrific light in which the film seems to paint Disney. A corporation whose insistently bright and sunny image is nearly as prominent as its nefarious, all-consuming power. So how the hell did independent filmmaker Randy Moore get away with something like this?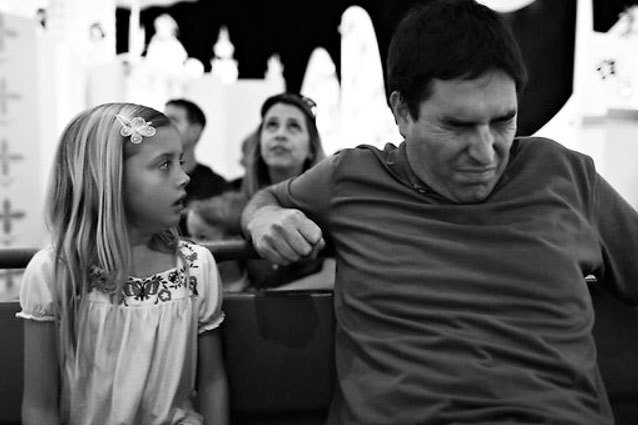 Moore utilized the most base form of "guerilla filmmaking" to craft his movie, shooting with handheld and hidden cameras throughout Walt Disney World, giving the film a gritty, surreal character. Managing to keep the premise a secret from Disney, with the aid of the Sundance Film Festival (at which Escape from Tomorrow premiered in January 2013), Moore at the very least delayed the wrath of Mickey, stirring suspicions of those "in the know" that his picture would never see legitimate release. But Disney is well aware of Escape now… and somehow, they don't seem to be doing anything about it.
Maybe Disney has realized that throwing down the iron, white glove-wearing fist would actually mar the company's reputation more than allowing the feature to proceed — having a sense of humor about yourself goes a long way. Maybe the corporation is simply not worried about relative unknown Moore and his wacky-lookin' indie movie. Or maybe… maybe Escape from Tomorrow is all true… and they're finally ready to let the masses tremble in fear of their ultimate power…
We don't know. But watch the trailer and figure it out for yourself.
More:
The Amazing Sundance Movie Disney Will Hate
'Tomorrowland' Plot Thickens with New Details
Go on a 'Tomorrowland' Treasure Hunt
---
From Our Partners:


40 Most Revealing See-Through Red Carpet Looks (Vh1)


15 Stars Share Secrets of their Sex Lives (Celebuzz)