Ethan Hawke Confirms 'Before Sunrise/Sunset' Follow-Up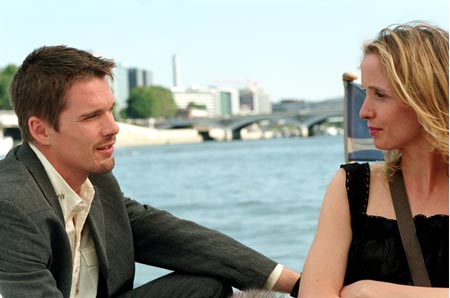 Let me sing you a waltz/About this one night stand/That made for one of the most authentic, lovely movie romances of all-time. 
Fans of 1995's charmer 
Before Sunrise
and 2004's equally satisfying
Before Sunset
can mark 2013 down as another important date in the timeline of Jesse and Celine: Once again, the chatty, continent-crossed lovers will have their latest 9-year reunion. During an interview with
IndieWire.com
, star and co-writer 
Ethan Hawke
(the American floppy-haired drifter/dreamer, turned unhappily married father Jesse) confirmed that he,
Julie Delpy
(Jesse's one-that-got-away better half, French beauty Celine) and
Richard Linklater
are "doing a follow-up to
Before Sunrise
and
Before Sunset
. We're going to shoot that this summer." 
Since Hawke stayed incredibly tight-lipped on any details ("I've gotten into trouble, so I'm sworn to secrecy," the 41-year-old actor cried) fans of the Oscar-nominated films can only theorize what's in store. Will they be trekking in scenic Europe again or will the Before saga get the New York City treatment? What in the world can this movie be called? Did Jesse, baby, miss that flight and stay behind with Celine in France? Or did he dissolve into a thousand pieces and head back to his decidedly less romantic real life back in the U.S.? Of course, much like the first two, those answers may depend on if you're a skeptic or a romantic. 
While Before Sunset ended on an arguably perfect note, fans of the films will more than likely universally agree that if anyone can continue to tell their story, it's Hawke, Delpy, and Linklater. The third film could very well take an entirely different route (what if Celine and Jesse aren't together at all and we're just seeing where there separate lives are?) but there's still the understanding amongst fans that it would still be in the right hands. Then again, theorizing too much about the fate of Celine and Jesse would take the element of surprise out of their love story. And what are Celine and Jesse if not for their spontaneous nature? It's better to simply close our eyes and jump into the unknown, once again, with them. 
Are you excited for a third
Before
film? Do you hope Jesse and Celine wound up together? Share in the comments section below. 
[Photo credit: Warner Independent Pictures]
More:
Ethan Hawke and Julie Delpy Teaming For Another Before Movie: But Should They?