'X-Men: Days of Future Past': Evan Peters Cast As Speedy Mutant Who's In 'Avengers 2'?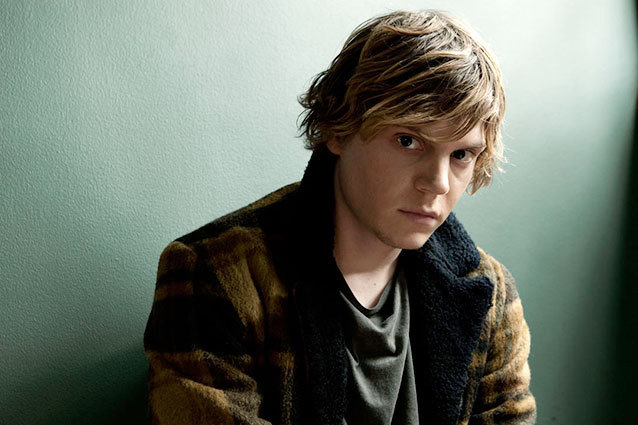 A crossover between The Avengers and X-Men? It's looking more likely than ever! X-Men: Days of Future Past director Bryan Singer tweeted that American Horror Story actor Evan Peters, 26, has been cast as Quicksilver. The incredibly speedy mutant is kind of like Marvel's version of The Flash, in that his superpower is simply that he can run really, really fast. What's interesting about the character is that when Stan Lee first introduced him in X-Men #4 in 1964 he was a villain — a member of the Brotherhood of Evil Mutants, eventually revealed to be, along with his sister Scarlet Witch, the child of Magneto. But eventually he became a good guy and even a member of the Avengers. Joss Whedon, director of The Avengers 2, has said he intends for both Quicksilver and Scarlet Witch to appear in his movie.
That begs a big question: Could we have our first big-screen crossover between the X-Men and Avengers movie franchises? It's a distinct possibility. Singer even mentioned Quicksilver's "Avenger" status in his tweet: "Before he was an #Avenger, he was just a REALLY fast kid. Thrilled to say #EvanPeters is joining #XMen #DaysOfFuturePast as #Quicksilver." However, that tweet has since been deleted in favor of the much-simpler "Thrilled to say #EvanPeters is joining #XMen #DaysOfFuturePast as #Quicksilver." Did Fox want him to take down the first tweet to dispel the idea that a crossover is in the works…or to prevent such a crossover from being spoiled? If it happens, if Peters appears as Quicksilver in both films, it's going to take some tricky maneuvering.
Marvel licensed the X-Men franchise (and really all of their characters referred to as "mutants") to 20th Century Fox in the late '90s.  That spawned X-Men, X2: X-Men United, X-Men: The Last Stand, X-Men Origins: Wolverine, X-Men: First Class, and July's The Wolverine. Since then, Marvel formed their own production company, Marvel Studios, through which they first released 2008's Iron Man and all the subsequent films that have built up to The Avengers. So when Fox uses Quicksilver in Days of Future Past, they can't call him an Avenger. And if Marvel Studios uses him in Avengers 2, they can't call him a "mutant." It's hard to imagine that Whedon, whose Avengers 2 comes out a full year after Days of Future Past, would want to cast a rival Quicksilver. That means either he'll cut that character from his movie…or a really, really cool crossover, with Peters playing the character in both films, is being planned. We shall see.
Follow Christian Blauvelt on Twitter@Ctblauvelt
More:
'X-Men: Days of Future Past': Jennifer Lawrence Is Very Naked, Very Blue In New Pic
Marvel's Phase 3: Hulk, Ant-Man, Doctor Strange, 'Iron Man 4' & More
'Iron Man 3' Burning Questions: What Is 'Westworld'? How Does Extremis Work? And What's Next for Tony?
---
From Our Partners


Stars Pose Naked for 'Allure' (Celebuzz)


Which Game of Thrones Actor Looks Least Like His Character? (Vulture)