Even More Monsters Vs. Robots: 'Pacific Rim 2' Already in the Works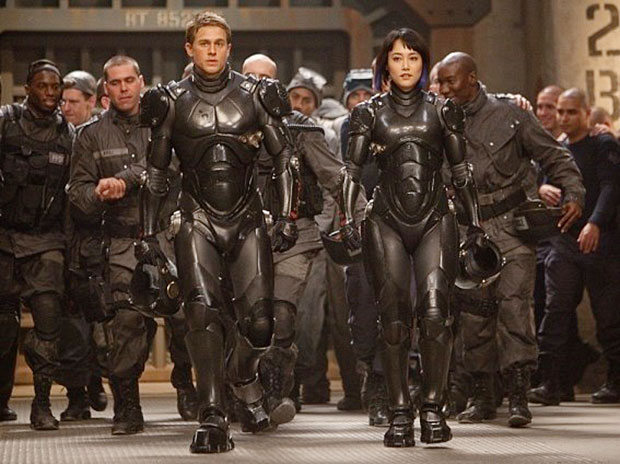 More and more, studios are hoping to keep momentum by developing sequels to their major blockbusters before the dust even settles from the original. Or in the case of Pacific Rim, before the epic battle of monsters and robots even begins.
Director Guillermo del Toro's Power Rangers-on-steroids blockbuster isn't set to hit theaters until July 12, 2013, but The Hollywood Reporter has learned that production company Legendary Pictures (which also has Man of Steel and the 300 sequel Rise of an an Empire next year) is currently developing a sequel to the film with the director and original writer Travis Beacham on board. Pacific Rim follows an elite team of soldiers who equip themselves with skyscraper-tall mech suits (or "Jaegers") to fight off Kaiju monsters that have recently appeared on Earth and are hungry for destruction. Hollywood.com reached out to representatives at Legendary who could not be immediately reached for comment.
Del Toro will co-write Pacific Rim 2 with Beacham, but it is unclear whether the Hellboy and Pan's Labyrinth filmmaker will continue directing the proposed franchise. Del Toro told Hollywood.com earlier this Fall, while promoting his animated film Rise of the Guardians, that he has a number of other projects lined up that he's eager to direct, including the upcoming haunted house horror film Crimson Peak, a film that Legendary recently slated for a January 2014 shoot date. With a number of producing credits to his name, Del Toro could mastermind the continuation of Pacific Rim while handing off directing duties to one of his proteges (like director Andres Muschietti, how helmed the Jan. 2013 Del Toro-produced picture Mama).
Legendary and Warner Bros. are putting a lot of chips on Pacific Rim by concurrently planning the film's release and developing a sequel, but it's not uncommon for a studio in the blockbuster business. WB pulled the same move in the late stages of 2009's The Hangover, allowing The Hangover Part II to quickly follow in 2011. Sony pulled the same move with their comic book reboot The Amazing Spider-Man, slating a date for the sequel nearly a year in advance of the first movie's release. With event films rolling out across all months of the year, audiences bombarded by new franchise starters weekend to weekend, there's an obvious pressure for studios to keep their biggest properties in the public eye. Starting work on Pacific Rim 2 now means we could see the big budget followup in theaters by 2015.
Pacific Rim stomps its way into theaters next July.
Follow Matt Patches on Twitter @misterpatches
[Photo Credit: Warner Bros. Pictures]
More:
'Pacific Rim' Viral Clip Reveals First Glimpse of Epic Monster Destruction — VIDEO
Comic-Con 2012: 'Pacific Rim' Wows With Insane Monster vs. Robot Footage
Guillermo Del Toro Talks Comic Book Movies, 'Pacific Rim,' and His Stop-Motion Pinocchio
From Our Partners:

25 Things You Didn't Know About 'Aladdin'

Best Hit Men Movies Ever