Exclusive: Emily Blunt Speaks Mandarin, Ewan McGregor Approves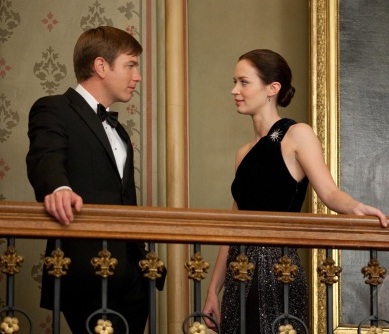 In Salmon Fishing in the Yemen, which opened in limited theaters last weekend and expands wide today, March 16, actors Ewan McGregor and Emily Blunt prove themselves capable of playing the most adorable human beings on the planet. Based on the book of the same name, the romantic dramedy follows a fish expert (McGregor) and a wealth management associate (Blunt) as they aid a Sheikh hoping to bring the sport of salmon fishing to Yemen. The endeavor challenges both of them, but the results are surprisingly heartfelt, heady and humorous.
Making their task of playing lovely on-screen characters slightly simpler is the fact that McGregor and Blunt may actually be the most adorable human beings on the planet. I sat down with them to talk Salmon Fishing in the Yemen, whether it's harder for them to play crazy characters or real people, the difficulties of shooting in Morocco (which stood in for Yemen) and what they learn on every film they do. Thankfully, I was also able to get Blunt to show off her Mandarin language skills.