Exclusive Interview: Anna Faris and Chris Evans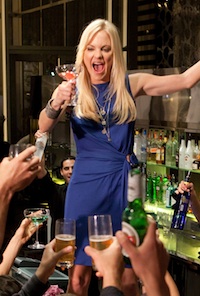 Adorable, fearless, and indisputably funny, Anna Faris has drawn comparisons to such comic luminaries as Lucille Ball and Goldie Hawn. This week, she joins the nascent trend of R-rated, female-driven comedies with her new film What's Your Number?, in which she plays Ally Darling, a fun-loving party gal who learns via a magazine article that a woman's chances of marrying become infinitesimal if she's slept with more than 20 men – a number which just so happens to match Ally's exact tally. Loath to accept a life of spinsterdom, she gives up sex and concocts a scheme to revisit each of her past lovers to see if any of them might actually be The One, enlisting the aid of Colin (Chris Evans), a crass ladies' man from across the hall who dabbles in detective work, to track them down.
Based on the book 20 Times a Lady by Karyn Bosnak, What's Your Number? is the perfect showcase for Faris, who is quietly building a case for the title of Hollywood's Funniest Actress. In an exclusive interview, we sat down with her and her co-star, Evans, to talk chemistry, nudity, and the importance of embracing the awkward:
What's Your Number? opens everywhere Friday, September 30, 2011.