Exclusive: Robert Redford Gushes Over James McAvoy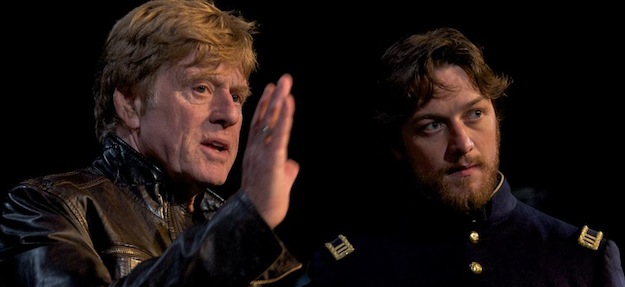 Robert Redford carved out his place in Hollywood history with starring roles in movies like Butch Cassidy and the Sundance Kid, All the President's Men, The Natural and Sneakers (OK, maybe Sneakers is more my own personal highlights…), but these days he can be found orchestrating a diverse slew of feature films from the comfort of the director's chair. His latest, The Conspirator, stars James McAvoy (X-Men: First Class) as Frederick Aiken, who defended the lone female conspirator in the assassination of Abraham Lincoln. As time goes on, he begins to realize she may be innocent, and he struggles to survive and deliver justice in the tense environment of post-Civil War America.
McAvoy was Redford's one and only choice for his lead lawyer and we've got an exclusive video from Redford explaining his logic behind the choice. Not surprisingly, delivering powerful performances comes naturally to James McAvoy.
The Conspirator hits DVD and Blu-ray August 16.