Exclusive Season One Special Edition 'Walking Dead' Behind-the-Scenes Clip!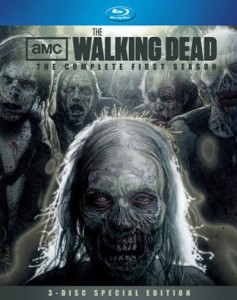 What sets The Walking Dead apart from countless other genre shows of the past is scope. The main cast of characters aren't with one or two pesky monsters each week. No, the band of survivors have a city-sized population of brain-eating zombies to contend with, the number growing faster and faster as more able-bodied folk fall victim to the undead's bite.
For a TV show to pull off those kind of numbers, the scale we're used to seeing only on the big screen, it takes a team of technical wizards working their computer graphic magic and stretching their resources as far as they can go. That's exactly how the effects team behind Dead whipped up the dazzling visuals, and in this exclusive behind-the-scenes from the upcoming Season One Special Edition Blu-ray/DVD, you can get an inside look at exactly what these guys go through to make the end product top notch.
Look for the set when it hits stores October 4:
You can contact Matt Patches directly on Twitter @misterpatches and remember to follow @Hollywood_com!