Exclusive Sundance Podcast – 'Bellflower'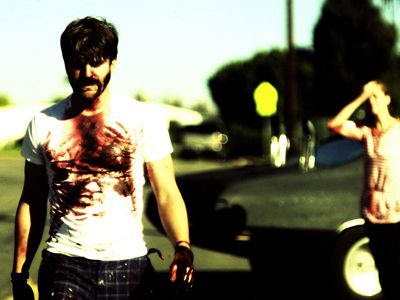 Recently I had the opportunity to chat with production team of Bellflower.  The film is an Official Selection for The Sundance Film Festival which starts this week and is featured in a Hollywood.com story about the Sundance Film Festival called The Films We're Looking Forward To At Sundance 2011.
I sat down in the Hollywood.com studio with writer/director Evan Glodell, Producer Vincent Grashaw and Director of Photography Joel Hodge.  The team spoke with me at length about the genesis of the project including the challenges of mounting an impressive looking production on a very limited budget, how the idea for the film originated with Glodell back in 2004, how actor Grashaw became involved as the producer of the project and how DP Joel Hodge's visual style is uniquely his own.
When pressed about the movie's plot, they preferred to keep that a mystery and would only say as Grashaw put it "it's a love story with apocalyptic stakes."
To find out more about the film and the filmmakers go to www.coatwolf.com
Please listen to this exclusive podcast with the production team of the Sundance 2011entry Bellflower.