Exclusive Video: A Scene from the 'Blue Velvet' Blu-ray Lost Footage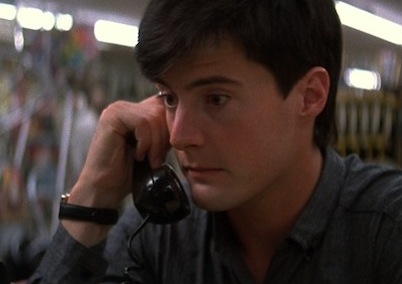 These days, filmmaker David Lynch spends most of his time ruminating on transcendental meditation and working with musicians on experimental albums (his most recent work, Crazy Clown Time, has just been released). But throughout the late '70s, '80s and '90s, Lynch was crafting some of the most unique cinematic work the film and TV world had to offer. His films feel undefinable in the best way—terrifying, funny, sad, provoking, disturbing, dabbling in a little of every genre and getting away with it. Blue Velvet, starring Kyle MacLachlan, Isabella Rossellini, Laura Dern and Dennis Hopper, may be the epitome of his chameleon efforts. The film's filled with colorful characters and bizarre scenarios, and with the upcoming Blu-ray release, Blue Velvet also touts a behind-the-scenes story that's equally as mysterious and odd as the one that plays on screen.
It's widely known that Lynch's original cut of the movie was four hours long, filled with side-characters and subplots. Eventually the film was trimmed to the cut we know today, but when probed by KCRW back in January as to the whereabouts of the additional footage, Lynch revealed that his first search turned up disastrous results:
One day I looked into seeing where the lifts were because some of these scenes on their own would be beautiful to see again. So I find out that Dino [De Laurentiis], the producer, doesn't know where they are. They've gone. His company went bankrupt, it was taken over by another company, and then it was sold to other companies. No one knew where they were, they were gone. So depressing. 
Lately, those have been found. Somewhere up in Seattle. It's incredible. I'm seeing stuff I thought was gone forever. And hopefully some of those scenes (some of them aren't worth putting back together) will end up on the new Blu-ray.  We did a 5.1 a while back and it was horrible. And now Dean and I did a new one and it is so thick and beautiful. It's the mix, but it's 5.1 killer beauty.
Thankfully, the scenes did end up on the Blu-ray, a whopping 50 minutes of deleted footage, and you can check it out on the new Blue Velvet Blu-ray (which hit shelves yesterday). I'm fortunate enough to present an exclusive scene from that a collection, a oddball dialogue between Jeffrey (MacLachlan) and his Aunt Barbara from late in the film, that I think is a quintessential Lynchian character moment. There's more this came from, so definitely track down the set for much, much more: