'Expendables 2' Goes for Box Office Two-Fer!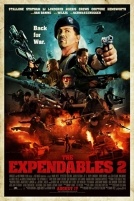 Lionsgate's The Expendables 2 will make it two in a row after leading the charge last weekend with $28.6 million. Sylvester Stallone and a veritable who's who of the action world featuring Jason Statham, Jet Li, Dolph Lundgren, Chuck Norris, Randy Couture, Terry Crews, Liam Hemsworth, Jean-Claude Van Damme, Bruce Willis, and Arnold Schwarzenegger will draw down on a second weekend at number one with a gross in the mid teens. With nearly $40 million in the vault through Thursday after just 7 days of release the R-rated action film should crack the $50 million mark by Sunday night in North America. The Bourne Legacy from Universal Pictures starring Jeremy Renner should take second place in its third weekend of release with around $10 million. Leading up to this weekend the action re-boot hit the $75 million mark and is on track to boost its fortunes to over $85 million by the end of the weekend. The PG-13 action drama has proven to be a worthy if not as successful a successor to the Matt Damon-led films, but should spawn at least one sequel.
Focus Features' Paranorman in 3-D has garnered solid reviews for creators Laika, the stop-action animators behind Coraline and despite a lower-than-expected debut weekend performance has built a bit of a following. The PG-rated horror adventure should scare up about $7 million or so this weekend and take its 10 day performance through Sunday to around $25 million.
Sony's action bicycle action thriller Premium Rush staring Joseph Gordon-Levitt, cycles into 2,255 theaters this weekend. The PG-13 film depicts the pursuit of a bicycle messenger in Manhattan by a corrupt cop intent on obtaining an envelope containing vital information. An expected debut in the $6 to $7 million range will be the reward at the finish line Sunday night.
In hot pursuit will be Open Road's Hit and Run written and co-directed by star Dax Shepard who appears with his fiancée, actress Kristen Bell in this R-rated story of a former getaway driver who jeopardizes his identity in witness protection to help get his girlfriend to Los Angeles. The film co-stars Bradley Cooper and features Shepard performing his own car stunts. An expected debut in the $5 to $6 million range in 2,698 theaters awaits this above average action yarn which opened on Wednesday and came in 8th place in the daily top 10 with $625,000.
Warner Bros.' election year comedy The Campaign starring Will Ferrell and Zach Galifianakis will try put both of these newcomers in their place with a third weekend gross that could put it in the middle of a contentious box office campaign with around $7 million. Finishing out the weekend with over $60 million in total funds, the film has provided some much needed late-summer comic relief.
Also debuting this weekend is the PG-13 rated horror entry The Apparition from Warner Bros. which stars Twilight's Ashley Greene and will open in just 810 theaters with a likely debut outside of the top 5 with under $5 million. 2016: Obama's America from Rocky Mountain Pictures has become something of a conservative documentary hit cracking the Top 15 last weekend in just 169 theaters and will expand into 1,090 theaters this weekend. The film could earn anywhere from $2 to $5 million this weekend depending on the strength of its grass roots marketing campaign.
Only one more weekend left in the summer movie season with only Labor Day weekend left on the box office agenda. Last year's record breaking $4.4 billion tally seems unlikely to find itself challenged this year since we are running at least 3 percent off that pace at this point.
More:
Expendables 2 Kicking Box Office Butt!
The 10 Cheesiest Jean-Claude Van Damme Pictures