'Expendables 2': Randy Couture and Terry Crews on Tease 'Oceans 11'-Style Threequel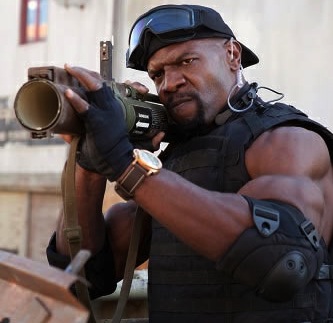 What happens if the worlds of The Expendables and Oceans 11 collide? Well, that is the dream of The Expendables 2 stars Randy Couture and Terry Crews who imagine the entire team reuniting for a third film – only this time they would be wearing sleek suits in a crime caper.
But this time around, the original team joined by a war hero named Billy the Kid (Liam Hemsworth) takes on a simple job from Mr. Church (Bruce Willis) that unexpectedly turns violent and leaves one of their own dead. Out to get justice for their fallen comrade and seek revenge on the opposition, Barney Ross (Sylvester Stallone) and Lee Christmas (Jason Statham) lead the group on a mission that proves to be more difficult than ever before.
But, with the help of Maggie (Yu Nan), the first female heroine in the Expendables franchise, the men including intense fighter Gunner Jensen (Dolph Lundgren), intellect Toll Road (Couture) and street-smart weapons specialist Hale Caesar (Crews) find new ways to fight their adversary (Jean-Claude Van Damme). The movie would not be complete without the return of Arnold Schwarzenegger whose role as Trent Mauser is far more substantial than in the original.
Hollywood.com recently sat down with Randy Couture and Terry Crews to get the scoop on training for the film, what their last meals would be, and their dream plot line for The Expendables 3.
Check out The Expendables 2. in theaters Friday, August 17 and watch our exclusive interview with the actors below.
[Photo Credit: Lionsgate]
More:
'Expendables 2': Jean-Claude Van Damme on His Perfectly Named Baddie — VIDEO
'Expendables 2': Dolph Lundgren on Liam Hemsworth's Initiation — VIDEO