Which of These Actors Will Play Doctor Doom in 'Fantastic Four' Reboot?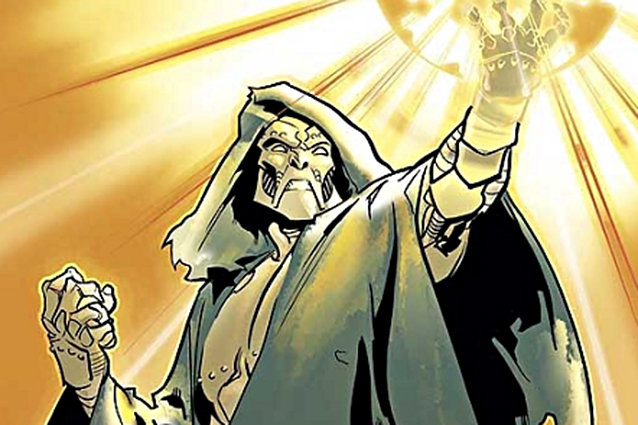 Marvel
After casting the main players of the new Fantastic Four movie, director Josh Trank is now eyeing his lead villain. The field of potential actors for the film's central nogoodnik Doctor Doom has been narrowed down to four: Domhnall Gleeson, Toby Kebbell, Eddie Redmayne, and Sam Riley.
Victor Von Doom, who has the second most absurdly evil name in the marvel universe (the top honor goes to Baron Wolfgang von Strucker), is the leader of Latveria, a fictional nation nestled in the edge of the former Soviet bloc. Doom is a gifted sorcerer and scientist who uses his knowledge and power to overthrow the monarchy of Latveria. Doctor Doom has always been an imposing force in the Marvel Universe, so it's important that the right actor is chosen for the part. So which one of these actors would make the best Doctor Doom?
DOMHNALL GLEESON
Notable Films: Harry Potter, About Time, Anna Karenina 
Genre Experience: Gleeson is well acquainted with genre films, playing Bill Weasley in the later chapters of the Harry Potter series and a role in the film Dredd. 
Potential for Villainy: We're not sure. Gleeson is a bit of a peculiar choice since he plays some pretty diminutive characters, and Doctor Doom is one of the most fearsome villains in the Marvel Universe. The actor does have an aura of mystery about him, but he certainly doesn't scream Victor Von Doom. Though Bill Weasley was a bit moody after getting slashed by a werewolf, so there's that.
TOBY KEBBELL

Notable Films: Control, Alexander 

Genre Experience: Kebbell has the most genre experience under his belt of the four candidates, with roles in Prince of Persia, The Sorcerer's Apprentice, Wrath of the Titans, and Alexander. 
Potential for Villainy: Kebbell is an interesting case. The actor played a violently unhinged and unstable character in RocknRolla, though he came off as more strung out and unpredictable than calculating and evil. He does have a ton of intensity in his roles, however, which is something that Doctor Doom needs.
EDDIE REDMAYNE
Notable Films: Les Miserables, My Week with Marilyn

Genre Experience: Redmayne's genre experience is pretty scant up until now, but he does have a big sci-fi adventure on the horizon with The Wachowskis' upcoming Jupiter Ascending. 
Potential for Villainy: Not terribly high, as Redmayne just doesn't look especially imposing. The Fantastic Four reboot is clearly casting younger than most people expected, but casting Redmayne as Doctor Doom might be a leap too far. He does play a pretty despicable character in Hitch, but most probably wouldn't buy him as the fascist leader of an entire country.
SAM RILEY
Notable Films: Control, On the Road
Genre Experience: Riley has been a part of several genre films, including Byzantium, Franklyn, and 13. He will also play a major role in the upcoming Disney fantasy Maleficent.
Potential for Villainy: Pretty high. Riley gave a dark performance in the film Brighton Rock, and was recently cast as Diaval, Angelina Jolie's right hand man and raven in Maleficent, so it's clear that studios are getting some pretty nefarious vibes from Riley. He does give a good icy glare, a necessary staple of any world conquering super villain.