Fantasy Casting The New Quentin Tarantino Movie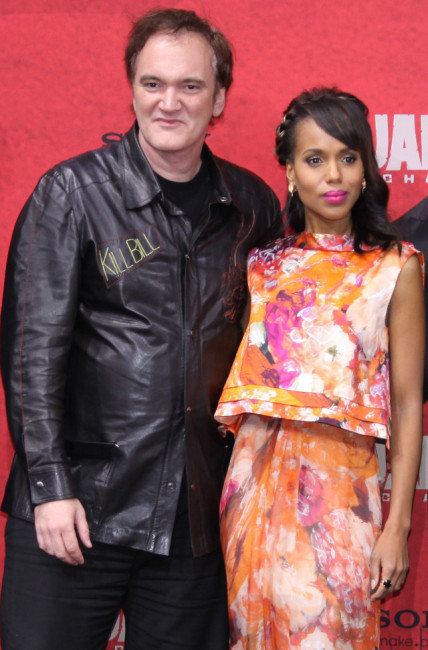 WENN
Quentin Tarantino recently made an appearance on The Tonight Show with Jay Leno and it was pretty awesome. First of all, they showed footage of the first time he was a guest on the show … over 20 years ago … and his hair was insane.
And then he announced that his next movie is going to be a western. Let's all just take a moment to get psyched about a new Quentin Tarantino movie [MOMENT]. And also, a western? Not a Django Unchained sequel (because that film is perfect and needs not have a part two), but a brand, spankin' new western? That's plenty to get excited about (though some folks might disagree). And although we have no information about the plot, storyline, or characters, we're gonna go ahead and start fantasy casting this movie right now. Here are a few actors we hope turn up in the next Tarantino classic:
Uma Thurman
These two haven't teamed up since Kill Bill — how is that even possible? And although Kill Bill Vol. 3 is rumored to be on the way, we'd love to see Uma get back in the saddle (pun intended) with Tarantino's new western. Can't you just see her right now, slinging guns and singing "Home On The Range"? Because that's exactly what she'll be doing, obviously.
Christoph Waltz
Last year Waltz won the Academy Award for Best Supporting Actor in Django, and we need to see more of these two together. Waltz is one of those brilliant actors who has the ability to pull off both dramatic and comedic roles, which makes him a great match for Tarantino's unique style. Any movie involving the two of them (again) has a 97% chance of being awesome. And yes, that percentage is completely made up, but still probably accurate, considering how Django and Inglourious Basterds turned out.
Kerry Washington
Right now she's dominating the small screen as Olivia Pope on Scandal. But we think Tarantino could catapult Washington to full blown movie star status by giving her a big part in the new film. She was fantastic as Broomhilda in Django, but we'd love to see her get a little more (or a lot more) screen time in his new picture.
Samuel L. Jackson
Seeing as how he was the single greatest thing in Django Unchained (well, okay… there were many great things, but he was epic), we now expect to see him in every new Tarantino flick. This makes sense since he's pretty much been in all of the old ones. In fact, we should probably go ahead and pay homage to Jules:
Jennifer Lawrence
The only actor on this list who hasn't been in a Tarantino flick, we think it's high time these two got together. Lawrence (who just won big at the New York Film Critics Circle) is already en route to becoming one of the greats, and nabbing a role in Tarantino's new western could be kind of a huge deal. Worlds would collide, Katniss superfans everywhere would lose their minds, and J Law would make for an absolutely amazing cowgirl.