Fassbender Debuts New 'Prometheus' Trailer at WonderCon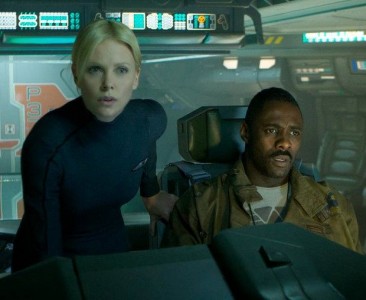 Actors Michael Fassbender and Charlize Theron were at WonderCon 2012 in Anaheim, California — and it wasn't to talk about Theron's newly adopted baby boy. The Prometheus stars were there to debut a brand new trailer for the much hyped prequel/spinoff film to 1979's science fiction horror film, Alien. And it looks awesome.
The latest movie, which is being directed by Ridley Scott, and stars Guy Pearce, Noomi Rapace, and Idris Elba, follows the crew of the spaceship Prometheus in the year 2085, as they search to discover the origins of humankind on Earth.
Or course it's not long before they discover something that could threaten the future of the human race. Since "the film does leave you with some nice big open questions," Scott shared his plans to film a second part to the film.
Hopefully some of those questions will be answered on June 8 when Prometheus hits theaters.
Theron was also on hand, showing her fiery wit during another WonderCon panel discussion for her other movie, Snow White and the Huntsman (in theaters June 1).
Source: E! Online