Fassbender Filming a Scene with Gosling? Internet Hangs in the Balance — PHOTO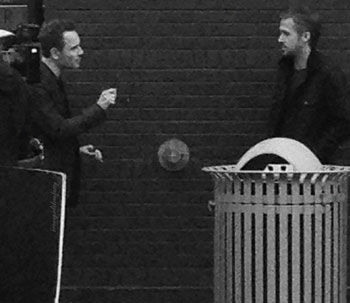 Move over, Nessie — there's a new blurry, grainy photographic mystery in town and its name is Fassy. The elusive Fassy, as folklore will tell you, is an attractive landshark that is not only a respected actor in Hollywood, but one that can golf with its hands/fins behind its back. The mind boggles. 
Now, imagine, if you will that this Fassy — which also responds to the name
Michael Fassbender
— came in contact with a Goosey. Goosey, in case you don't have
the Internet
or ABC Family for the 700th airing of
The Notebook
today, is something even more elusive: the perfect man. Experts sometimes refer to the desirable creature as Baby Goose, or simply,
Ryan Gosling
. 
Never have the two mysterious beings been photographed in the wild together…until now.
This delightfully named Tumblr
posted a photo of what appears to be the two stars filming a scene in Austin, Texas for a movie for the most elusive Hollywood creature of them all:
Terrence Malick
. The film, about intersecting love triangles, also features
Rooney Mara
,
Natalie Portman
,
Christian Bale
,
Cate Blanchett
, 
Holly Hunter
, and
Haley Bennett
. (Though, how many of them will
actually wind up in the final cut of the film
will remain, well, a mystery). 
Hollywood.com reached out to Fassbender's rep to confirm if that is the actor filming a scene opposite Gosling for the untitled Malick project, but they could not immediately be reached for comment. Conspiracy theorists, go to town on that one! 
Now squint your eyes, check out the photo (which has strong
evidence
to back up the glorious claim) and determine if Fassy and Goosey really do walk among us commoners, together.
[Photo credit: Brown Girls Love Fassy]
More: 
Michael Fassbender vs Ryan Gosling: Fifty Shades of Grey Fan Favorite