Contending with 'Fast 7' Rumors, 'Fast and Furious 6' Star Paul Walker Gets a POSTER
Fast & Furious 6 is set for release for Memorial Day 2013, and yet rumors are already brewing for what Fast & Furious 7 has in store for adrenaline junkies. Yes, the installment with three months left to hit theaters is already falling victim to the pulse of the unannounced seventh sequel. Fast is a franchise speeding along on all cylinders.
For those who want to keep potential Fast & Furious 6 spoilers under the hood, we'll reveal the latest tidbit after the pressing news: loyal star Paul Walker, who has appeared in five of the six Fast movies, has been heralded with his own poster for Fast & Furious 6. As a series known for showcasing its ensemble cast behind the bald wonder of leading man Vin Diesel, this something of a treat for Walker, who really hasn't seen the individual love since 2 Fast 2 Furious. And it's a cool one-sheet; as opposed to blowing Walker's mug up ten sizes and filling a poster with stubbled chin, the marketing wizards behind Fast & Furious 6 have opted for minimalism. Just a guy, his car, and the open road… that will eventually be crashed down upon by a flaming airplane with hot rods flying out of it.
RELATED: 'Fast & Furious 6' Makes Ultimate Promise: Michelle Rodriguez Vs. Gina Carano
Check out the poster below and scroll a bit further for the latest Fast 7 rumor: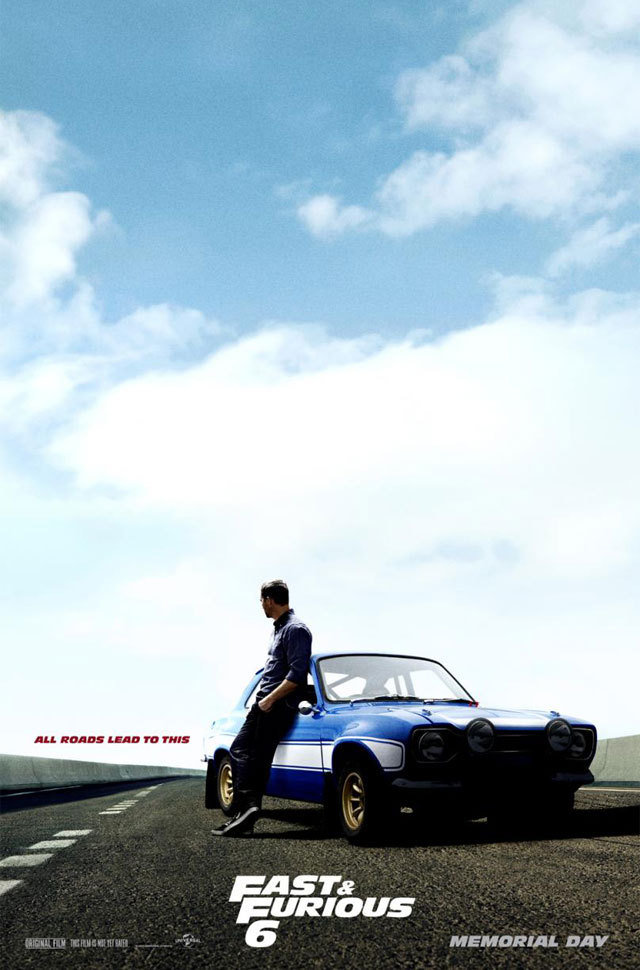 RELATED: Paul Walker To Rival Vin Diesel's Baldness In 'Hitman' Reboot
According to Ain't It Cool News, the team behind Fast & Furious 6 already has an idea in place for a seventh sequel, a nugget far enough in developement that they'll cap their movie with a post-credits scene setting up a new villain.
Similar to how Michelle Rodriguez was reintroduced into the franchise at the end of Fast Five, AICN's report suggests that none other than Jason Statham, previously courted for the villain role in Fast & Furious 6, will appear in the final scenes of the film to set up the next movie.
Even if scenes featuring Statham were shot for the film, we may not know if the news is true until the final minutes of the next movie. What it does suggest is that the Fast series isn't slowing down. As long as they keep giving Paul Walker his own posters, we're okay with it.
Follow Matt Patches on Twitter @misterpatches
[Photo Credit: Universal Pictures]
---
From Our Partners:

Pregnant Kate Middleton Bikini Pics Spark Palace Anger (Celebuzz)

50 Steamiest Movie Kisses of All Time (Moviefone)