Fearing 'The Vow,' 'This Means War' Retreats Back to Feb 17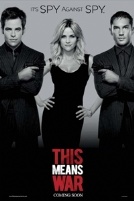 Bowing to the formidable tear-jerking powers of Rachel McAdams and Channing Tatum, Fox has pushed back the release date for its upcoming rom-com This Means War to February 17. That's the date the film, which stars Reese Witherspoon, Tom Hardy, and Chris Pine, had originally been slated to open before Fox rather audaciously moved it to February 14, placing it in direct competition with the McAdams/Tatum weeper The Vow for precious Valentine's Day box-office dollars.
But, as Deadline.com reports, audience tracking for This Means War proved so paltry that the studio, fearing an embarrassing rout, retreated back to its original date, where it won't have to worry about demographic competition from the likes Ghost Rider: Spirit of Vengeance or The Secret World of Arrietty. Now The Vow, which opens February 10, has V-Day all to itself.
Source: Deadline