Felicity Jones Reveals Her 'Shrouded in Secrecy' Character in 'The Amazing Spider-Man 2'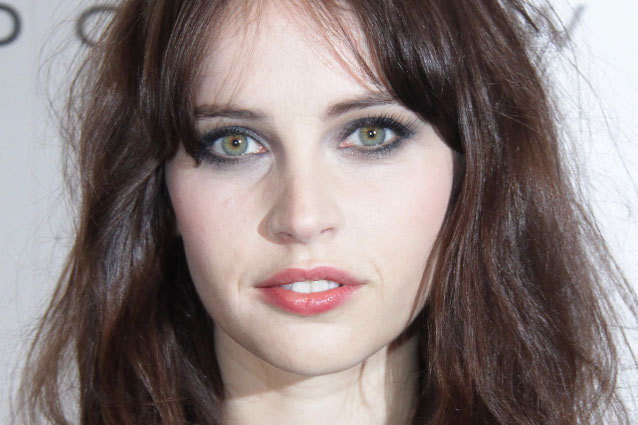 Due to Felicity Jones lack of a character description on IMDb, we've been very curious about what role the Like Crazy actress would take on in The Amazing Spider-Man 2. Well, now we have a bit more of insight — Jones will join the dark side as the Goblin's girlfriend and sidekick!  
In an interview with View London, the British actress finally spoke about her character in the superhero flick, revealing, "It's all quite shrouded in secrecy, but I'm the Goblin's girlfriend – I'm in a relationship with him, and his accomplice. I'm on the dark side."
Due to the secrecy surrounding her involvement with the second installment of The Amazing Spider-Man franchise, many had figured that Jones would star as Black Cat. But nope! Jones is slated to play Harry Osborne a.k.a. Green Goblin's girlfriend.
In the comic realm, Goblin's girlfriend, Lily Holister, who is also known as her evil alias Menace, stumbles across one of Harry's father's hideouts, where she lands herself in goopy Goblin serum and winds up developing powers. Although the roguish girlfriend keeps Harry in the dark about her powers, she still manages to use them for evil, fighting Spider-Man and brandishing havoc across New York City.  
Although we're not completely positive that Goblin's girlfriend in the movie will equate with the comic book description of Lily Holister, we're definitely pumped to see Jones as she steps away from her indie film career to tackle a grander scale, action-packed film. 
Follow Cori on Twitter @gimmegimmeCOR 
Follow Hollywood.com on Twitter @Hollywood_com
More:
Andrew Garfield Questions Spider-Man's Sexuality
'Venom' Movie May Tie into 'Amazing Spider-Man' Avengers-Style — EXCLUSIVE 
So When Is The Amazing Spider-Man 2 Coming Out?