Will the Production of 'Fifty Shades of Grey' Be More Exciting Than the Movie?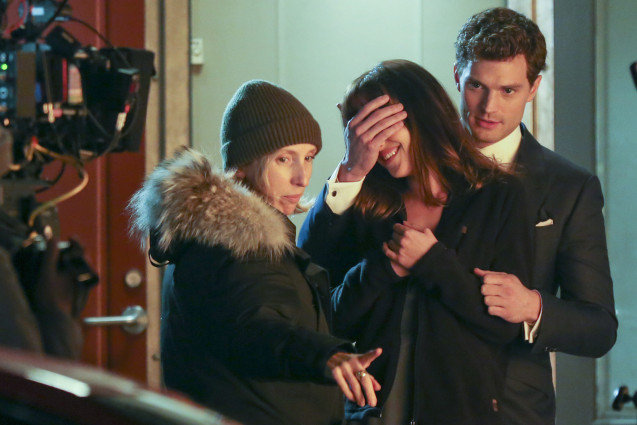 SplashNews
Tired of dealing with your own work drama? Why not read about someone else's work drama, particularly the constant excitement on the set of Fifty Shades of Grey. Now we're not talking about the hot and steamy excitement E.L. James's book is known for, we're talking about the constant crises behind the scenes. 
First of all, no one could escape the casting controversy for the film adaptation of Fifty Shades of Grey (unless you were living under a very big rock, like, a mountain-sized rock). First Charlie Hunnam was playing the sex god himself, Christian Grey, but fans were angry. Then Hunnam left the project and it was rumored Dakota Johnson, who will play Anastasia Steele, would have to leave as well if she didn't have the right chemistry with the new actor. But after two weeks of uncertainty, the studio cast Jamie Dornan, and it seemed all the issues were resolved because Dornan and Johnson have "hot chemistry." 
But a movie of this magnitude couldn't go quite that smoothly now could it? E! News reported tension between James and the film's director Sam Taylor-Johnson. Reportedly they have had a disagreement over the script and how closely it will stick to the book.
As if that wasn't enough, locals in Vancouver, British Columbia, where shooting is taking place, have begun sabotaging the film. While filming a rain scene (in which the production created artificial rain), residents were so unhappy they threatened to make the film pay for any water damage. Another man was so fed up with the noise he began ringing a cowbell loud enough to disturb shooting and they were forced to move to another location. (That's certainly one way to get rid of noisy neighbors.) 
For those of us that love reading juicy Hollywood gossip, the Fifty Shades of Grey film is constantly satisfying. It's hard to believe the movie will be even a fraction as exciting. Hopefully Fifty Shades of Grey will live up to all the expectation, but if not, we're expecting more behind the scenes gossip during the press tour. C'mon Dakota and Jamie, you can tell us what it was really like filming Fifty Shades of Grey.