'Fifty Shades of Grey': Krysten Ritter Joins the Casting Speculation Frenzy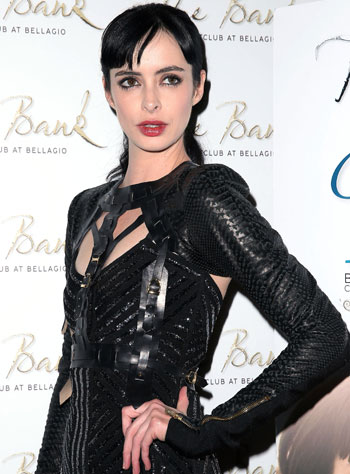 Could Krysten Ritter be going from Apartment 23 to the Red Room of Pain? That's the latest possibility swirling around the ever-evolving Fifty Shades of Grey casting speculation and rumor mill. This latest rumor is thanks largely in part to Cinemablend noticing that the 31-year-old actress has shown some interest in playing Anastasia Steele, the demure college girl turned object of Christian Grey's BDSM affections in the upcoming adaptation of E.L. James' wildly popular saga. (The role of Christian has not yet been filled either, but actors like Matt Bomer, Ian Somerhalder, and Ryan Gosling are just some of the names that have been thrown out there.)
PICS: Disguise Your '50 Shades' With Crazy Book Covers
On January 1, Ritter retweeted an article from a Fifty Shades fan site that suggested she and fellow beautiful brunette Anne Hathaway (who wore her own hinting-at-Fifty Shades dress recently) are in contention for the role. When a fan tweeted in response that "between the two it should 100% be @Krystenritter", the Don't Trust the B star wrote back from her Twitter page, "Thanks! i would be down. ;)." Hollywood.com reached out to Ritter's rep for comment, but they were not immediately available for response.
Alright, so Ritter certainly doesn't seem to be shy about wanting to be in the hotly anticipated movie, but would she make sense for the role? Never mind the whole age gap thing (Ritter is 31, almost exactly a decade older than Anastasia), as Hollywood sidesteps around that constantly. Never mind that she looks awesome in bondage-like attire (see above), as the character spends most of her saying things like "Holy cow!" rather than donning leather dresses. Wouldn't Ritter's Don't Trust the B costar Dreama Walker make much more sense for the part as a sweet girl who winds up in a relationship where she's constantly being humiliated and pushed to the limit? It sounds awfully familiar, no? 
STORY: True '50 Shades' Horror Story: Why a Movie's a Terrible Idea
On paper, Walker seems like a much more obvious choice (and the actress more than proved herself in last year's disturbing drama
Compliance
), but Ritter would join a long lineage of TV stars who go against type for a big movie role. Heck, even her other
Don't Trust the B
costar
James Van Der Beek
did it when he bid Dawson adieu to play sexual devient and all-around terrible person Sean Bateman in
The Rules of Attraction
. Playing against TV type also boded well for 
Courteney Cox
when she switched gears from neurotic Monica on
Friends
to play the conniving Gale Weathers in the
Scream
saga;
Will Smith
broke out from
Fresh Prince
and temporarily earned indie cred for his part as a con artist in
Six Degrees of Seperation
; and who could forget when
Saved by the Bell
star
Elizabeth Berkley
quite literally shed her image in
Showgirls
? (Okay, that last one probably isn't the best example.)
Ritter is a talented actress, but whether she's right for the part will likely divide the eager-to-be-pleased Fifty Shades crowd. At the very least, let's hope this becomes the inspiration for a Don't Trust the B episode in which Van Der Beek, undeterred from his failed attempt at being Sexiest Man Alive, campaigns hard for the role of Christian Grey.
[Photo credit: Judy Eddy/WENN]
More:
'Fifty Shades of Grey' Movie Finds a Writer in 'Terra Nova' Creator
'Fifty Shades of Grey': First Look at Anastasia Steele
'Fifty Shades of Grey': First Photo of Christian Grey Revealed

'Les Mis': Who's Who of the Cast — PICS

10 Pop Culture Moments That Would've Been Better Naked