'Fifty Shades of Grey' Movie Finds a Writer in 'Terra Nova' Creator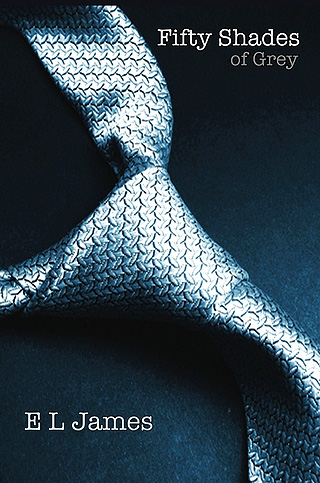 While it might be more fitting for the movie adaptation of ebook-to-phenomenon Fifty Shades of Grey to star complete unknowns, be shot on a Flip Cam, and randomly pop online before it actually hits theaters and makes a billion dollars, it appears the producers are taking normal steps to bring author' E.L. James' erotic drama to life. Oh well.
After meeting with several options, James' official Facebook page and Focus Features have both confirmed that a screenwriter has been hired to Rumpelstiltskin the former fan fiction into something worthy of Hollywood. 50 Shades producers Mike De Luca and Dana Brunetti have settled on Terra Nova creator Kelly Marcel to pen the feature script. Comments from the official press release are filled with appropriate innuendo: on Marcel, Brunetti says, "We were all taken with the depth and passion of Kelly's engagement with the characters and world E L James has created and we knew she was the right person to augment our Fifty Shades family."
Marcel's past work is sparse, and while Terra Nova wasn't a major success (or evidence that Marcel can whip up a steamy romance not involving velociraptors), her hot script for Saving Mr. Banks sold De Luca and Brunetii on her abilities. The in-production true story of Walt Disney's efforts to court Mrs. Poppins author P.L. Travers, which De Luca describes as having "flawless structural technique and passionate commitment to emotion, humor and depth of character,"lured big name talent like Tom Hanks, Emma Thompson, Colin Farrell, and Oscar-winning director John Lee Hancock (The Blind Side). If she brings half the effort to her work on Fifty Shades, the big screen S&M extravaganza could court the same kind of names.
It's evident from the fervor surrounding fantasy casting and leaked names pegged as producer "favorites" (which include the likes of Ryan Gosling, Emma Watson, Ian Somerhalder, and most recently, Mila Kunis) that the casting game for Fifty Shades of Grey is one of the biggest question marks in Hollywood at the moment, but with the announcement of a screenwriter, the mystery inches towards an answer. Just in case you want to come up with your own suggestions, take a look at our rendered sketches of Anastasia Steele and Christian Grey.
Follow Matt Patches on Twitter @misterpatches
[Photo Credit: Vintage]
More:
Angelina Jolie's '50 Shades of Grey': When Big Stars Just Don't Work
'50 Shades of Grey' Album in the Works: Listen to Our Playlist
'50 Shades of Grey' Directors: Will It Be an Action-Thriller, Rom-Com, or Aaron Sorkin Drama?