Final 'The Twilight Saga: Breaking Dawn – Part 2' Poster Is Immortal

If you're a Twilight fan, chances are you're in it for the long haul. Yes, the cinematic series is coming to an end with the release of The Twilight Saga: Breaking Dawn – Part 2 on Nov. 16, but will the love triangling of Bella, Edward, and Jacob ever really die?
Not if the film's poster has anything to say about it.
Touting Breaking Dawn – Part 2 as "the epic finale that will never die," the one sheet depicts the film stars — the trifecta of young adult stardom, Robert Pattinson, Kristen Stewart, and Taylor Lautner — running straight into the film's climatic battle. Those who have read the books suggest that Part 2 may not erupt with the action of its epic predecessor Harry Potter, but the poster suggests otherwise. Director Bill Condon and author Stephenie Meyer have hinted that they've made changes to the sacred text, suggesting that even the hardest of Twihards are in for some surprises. No matter what goes down, just remember: Twilight "will never die." As a pop culture mainstay — both in positive light and as a whipping horse for naysayers — really, who would want it to?
Check out the poster below and weigh in: is Breaking Dawn – Part 2 going out with a bang?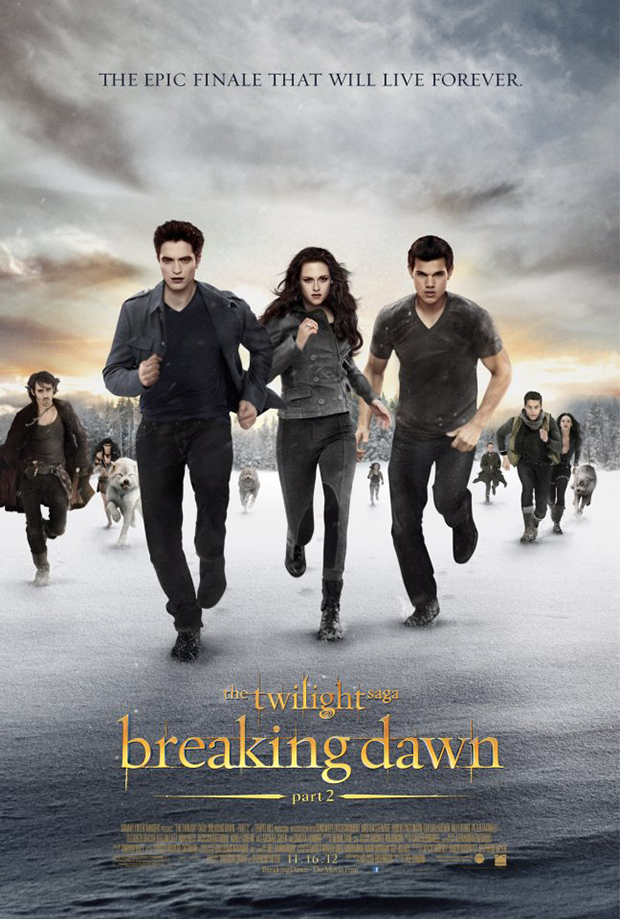 Follow Matt Patches on Twitter @misterpatches
[Photo Credit: Summit Entertainment]
More:
Comic-Con 2012: 'Breaking Dawn – Part 2' Footage — The First 7 Minutes
'Twilight: Breaking Dawn — Part 2': Vampires From Around the World, Unite! — TRAILER
Interview with the Twi-Hard: Explaining Twilight Fandom
From Our Partners:

(Moviefone)

10 Kid-Friendly Scary Movies
(Moviefone)