First Look: Next Marvel Short from 'Captain America' Blu-ray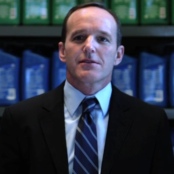 Marvel's committed to making movie history. Never before have we seen the continued expansion of a cinematic universe quite like the one they've been building with their slew of Avengers characters. Just like their many comic book series, their films have a mythology all their own, each film clicking together like puzzle pieces—but with only two hours, can they really flow into one another as easily as their paperback counterparts?
That's where their short films can come in.
Following in the footsteps of the Thor Blu-ray extra "The Consultant", a short starring Clark Gregg as S.H.I.E.L.D. agent Agent Coulson that ties together The Incredible Hulk and 2012's The Avengers, comes the follow-up: "A Funny Thing Happened on the Way to Thor's Hammer." Attached to the upcoming Captain America Blu-ray release, "A Funny Thing" tells of Coulson's journey from Tony Stark's (aka Iron Man) pad in Malibu to the New Mexico site where we pick up his character in Thor. Apparently, somewhere in-between, the dry-witted gent finds himself in the middle of a convenience store robbery.
Our first look at the short comes courtesy of the film's cinematographer David Myrick, who also shot "The Consultant." While there isn't much in the way of superhero antics, we do get a taste of Agent Coulson's latest misadventure, which should throw us a few laughs while filling in the Marvel Movie Universe's blanks. At least we know he lives!
(Thanks to @RIMBreaks for the heads up)
You can contact Matt Patches directly on Twitter @misterpatches and remember to follow@Hollywood_com!