First Looks At 'Breaking Dawn' And 'Ghost Rider 2'
Oof. I'm stuffed from this holiday. Lots of laying around, lots of football (and by football I mean Love and Other Drugs and Harry Potter), and lots and lots of food. We had dressing, green beans, turkey and ham galore. Speaking of ham! We have new pictures of Nic Cage in Ghost Rider: The Spirit of Vengeance and the first official still photo from The Twilight Saga: Breaking Dawn – Part I! Man, was the set up for that segue worth it? You better believe it.
Anyway, a Breaking Dawn photo! Yay! An arm with feathers! Wait, what? Using basic deductive reasoning, we can assume that this picture takes place post coitus for the newly married couple Bella and Edward, once again played by Kristen Stewart and Robert Pattinson. But this picture also raises so many questions: Will new director Bill Condon actually show the couple getting steamy which the book so clumsily glosses over? Why doesn't Bella have bruises on her arm like in the book? Are they trying to go for a less post-trailer-park-domestic-abuse-fight look? Why do I have so many questions about this movie? Why do I even know enough about these books and movies to ask these questions?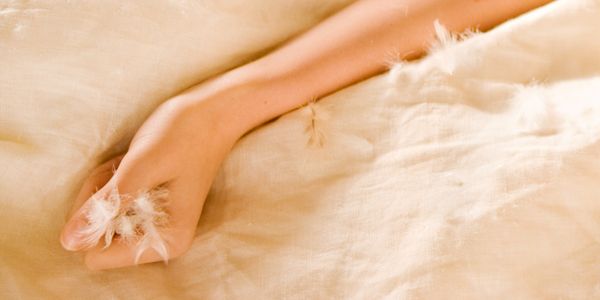 And then Ghost Rider pictures. Everything seems to be in order here. We have Nic Cage and a motorcycle. Also back is Nic Cage's forehead, which, although not stated in its contract, will nevertheless get 40% of all advertising space dedicated to it. There's a kid as well in this picture that could signify a plot development (and a potential spoiler) or it could just be the gravitational pull of said forehead or a mental projection from Cage's mind. Man, Nic Cage is so cool.

Source:Libertatea and ComingSoon