Home
Movies
Leonardo DiCaprio's Bonkers 'Wolf of Wall Street' Trailer Has More Midget-Tossing Than...
Leonardo DiCaprio's Bonkers 'Wolf of Wall Street' Trailer Has More Midget-Tossing Than You Might Expect
Three years after Shutter island, Martin Scorsese and Leonardo DiCaprio have teamed up again. This time they're bringing us the semi-biographical film The Wolf of Wall Street. If the first trailer is any indication, this movie is going to be one hell of an over-the-top ride.
Based on the memoir by Jordan Belfort, The Wolf of Wall Street tells the true story of a wealthy New York stockbroker who becomes the subject of a securities fraud and money laundering investigation. The movie focuses on Belfort's excessive lifestyle during the '80s and '90s, when he was "making more money than [he] knew what to do with."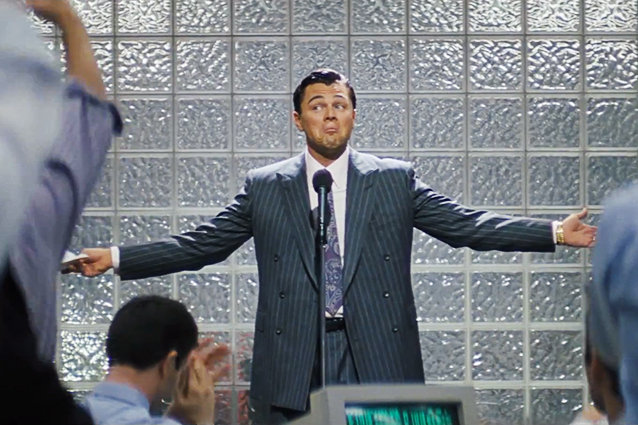 The trailer for The Wolf of Wall Street, fittingly set to Kanye West's howl-filled new single "Black Skinhead," shows the financier engaging in all levels of debauchery. It's a fraternity party of epic proportions, complete with bikini-clad women, Jonah Hill eating a live goldfish, a marching band in their boxers, a few American Psycho-esque freakouts, and countless hundred dollar bills thrown everywhere. From taping stacks of money to half-naked women to launching a dwarf at a life-sized target, there seems to be no limit to how these guys will spend their wealth.  
This isn't the first time that DiCaprio has played a white collar criminal (think back to Catch Me If You Can). But it may be the role that finally earns him that long-elusive Academy Award. The Wolf of Wall Street also stars Matthew McConaughey and Jonah Hill, who, after his critically acclaimed performance in Moneyball, seems to think that being "a serious actor" necessitates that he take on roles in films with money-related titles.
The Wolf of Wall Street might be Oscar gold or perhaps just a glorified frat party. Either way, we can't wait to see more.
Follow Caroline on Twitter @carolinesb | Follow Hollywood.com on Twitter @Hollywood_com
More:
Why Do We Still Crush on Leonardo DiCaprio Like It's 1997?
Leonardo DiCaprio Plans "Long, Long Break from Acting"
When Will Leonardo DiCaprio Win an Oscar?
---
From Our Partners


Stars Pose Naked for 'Allure' (Celebuzz)


Which Game of Thrones Actor Looks Least Like His Character? (Vulture)