Five Movie Weddings We'd Rather Go to Instead of Bella and Edward's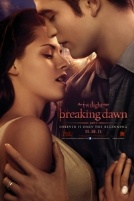 Years ago, little girls would grow up dreaming of that special day when their father would walk them down an ivory aisle and present them to a handsome young man who would moments later become their husband. These days, however, pre-pubescent teens are more interested in waiting for fictional vampires to tie the knot, which brings us to this Friday's uber-anticipated release of The Twilight Saga: Breaking Dawn Part 1, in which perennially brooding couple Bella Swan and Edward Cullen finally get hitched. 
Pre-sales for the fourth film in the series may be huge, but this is one invitation I'll be not-so-regretfully declining. Instead of heading to Forks, WA for this supernatural ceremony, I'd rather revisit one of these five matrimonial blasts from the past:
Demonic curses and insufferable yuppies abound at the climax of
Tim Burton's
beloved sophomore feature. Even with all of those terrors present during the ill-fated union of Beetlejuice (
Michael Keaton
) and Lydia Deets (
Winona Ryder
), I'd still rather brave killer pieces of modern art and Sandworms than sit through a vampire-human wedding.
One of the most sacred moments in all the comic-book world was sabotaged by the intergalactic warrior known as the Silver Surfer (not to mention the direction of
Tim Story
) in this 2007 sequel, but talk about an explosive party! With a helicopter crash and a Human Torch taking flight, this chic shindig atop an NYC skyrise is easily more fun than what's happening in Forks.
It was an absolute bloodbath; a horrific gangland-style execution in which dozens of innocent guests, a happy groom, a bride-and-mother-to-be and a conspicuous jazz musician were slaughtered at the hands of ruthless assassins. I'd take it over Edward and Bella's nuptials any day. Have a look at the carnage below, in a "before and after" series of videos
This is sort of a cop-out, as there's more build-up to a wedding(s) in
Garry Marshall's
1999 rom-com than a wedding itself. However, the comedy that ensues from watching three-time fiance Maggie Carpenter (
Julia Roberts
) ditch would-be husband after would-be husband is undoubtedly more entertaining than the super-serious Cullen/Swan affair.
Like the fore mentioned Runaway Bride, there are numerous ceremonies in this blockbuster comedy and each one is more fun than the next. It beats the Breaking Dawn wedding for a handful of reasons: 
1) A wider variety of refreshments (not just animal blood) 
3) Pre-marital sex!