What 'Star Wars' Fans Fear Most About the New Movies
A long time ago…in a galaxy far, far away…everyone loved the original Star Wars movies, their mere mention evoking a pleasant rekindling of childhood nostalgia for an entire generation born before 1980 or so. However – quicker than your tauntaun freezing before it hits that first marker on Hoth – that all changed with the next trilogy. In fact, little Anakin wasn't through one-loop of that pod race on Tatooine before many already bailed on the new installments, subsequently brushing off the series as a whole. Now, while for this writer's money, the last half of the latter trilogy is as good as anything in the first, now is not the time for stoking the fires of Mustafar. That ship has sailed. Instead, we gaze ahead to the future. To 2015. To the new movies from Disney – and things every Star Wars fan should rightly fear.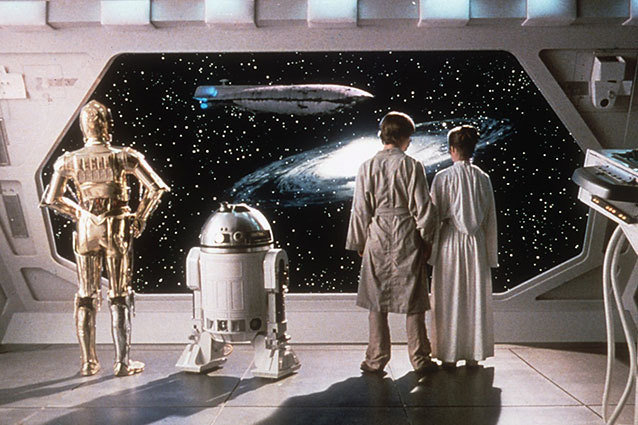 Lucasfilm via Everett Collection
"The boy has no patience."
Was Yoda talking about Mickey Mouse? Perhaps so, given the studio's insistence on a 2015 release. Don't just make it to make it, guys. Make it good.
The Jar Jar Factor
It's undeniable. The shadow of the classic misstep from trilogy two looms larger over even these flicks. Will Disney go for cute or cool with new characters?
To sing the impossible song
Surely I can't be the only one to wonder if Disney will throw in more music into the Star Wars saga. Its animated offerings are chock full of this stuff. Shudder.
And we thought Obi-Wan was old
Can the original stars still kick Imperial butt? Will the Force still be strong with Hamill, Ford and Fisher? Or will that just be the stench of Ben Gay coming from their trailers?
Less is more. More is less
Will more mixed-reviewed Star Wars flicks further sully the series? A cash cow that literally wrote the rules on merchandising, maybe Lucas was right to sell when he did.