'Fockers' & 'Grit' Top New Year's Box Office!
New Year's weekend marks the start of what could be one of the biggest years in box-office history as we say goodbye to 2010 and hello to 2011.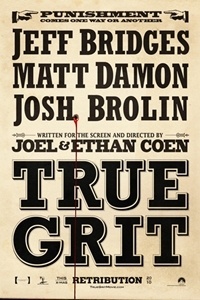 No big surprises at the top of the chart as last weekend's number one film, Universal's Little Fockers earns $26.3 million against a tiny 15% drop and a pretty focking great $103.2 million domestic total after just twelve days of release.  A perfect holiday film, Fockers with its PG-13 rating and boasting perhaps the only holiday-themed scene in a wide release movie in December has capitalized on the audience hunger for lighthearted fare at this time of year.
With numerous potential blockbusters in the pipeline for 2011, we finish one box office year and start another with the potential multiple Oscar nominee True Grit from Paramount in the second spot with $24.5 million.  A perfect release strategy that gave the Coen Brothers their first film to debut in over 3,000 theatres, Grit has already become the duo's highest grossing film ever surpassing the $74.3 million total domestic gross of the brilliant No Country for Old Men.  A long-term performer indeed, True Grit is the perfect film to ring in the New Year and set the tone for what is yet to come in 2011.
In third place with $18.3 million is Tron: Legacy from Disney which has a domestic total to date of over $130 million.  With brilliant visuals and a huge boost from IMAX-driven revenues, Tron is the sci-fi event movie of the season and gives star Jeff Bridges bragging rights with a second film in the top five.
Fourth place goes to Yogi and Boo Boo as Warner Bros.' Yogi Bear puts another $13 million in the pic-a-nic basket and a domestic cumulative of $66.1 million 3-D enhanced bucks.  The PG-rating has served the film well through the holidays and given families with younger kids a fun day out in Jellystone Park.
Fox's The Chronicles of Narnia: Voyage of the Dawn Treader in its fourth weekend of release earns another $10.5 million as it flirts with hitting $90 million in domestic receipts.  Along with Yogi, Tangled and Gulliver's Travels, Narnia is yet another PG-rated holiday film aimed squarely at the family audience.
The specialized film world continues to be the bright spot in this marketplace with Fox Searchlight's Black Swan remaining an audience and critic's darling as the daring film continues to draw intrigued audiences and grabs another $8.45 million and whopping (by indie film standards) cumulative gross of $47.3 million. Weinstein Co.'s The King's Speech enjoying a recently expanded run in 700 theatres to the tune of $7.6 million and an impressive cumulative topping the $22 million mark.  Additionally, Weinstein Co's acclaimed Blue Valentine in just four theatres is posting impressive per-theatre averages of over $45,000 as specialized audiences continue to show their support for well-reviewed and notable films.
After a year that saw box office fortunes fall, the fact that there is a wealth of high quality smaller films in the marketplace salves the wounds of revenue deficiencies by delivering a bevy of Oscar-worthy performances, impressive visuals and of course great screenwriting and directing.
Weekend Box Office
Top 10 Movies – For Weekend of December 31, 2010 – Estimates
 Movie               Weekend                 Total
1 Little Fockers (PG-13) $26.3 M $103.2 M
2 True Grit (PG-13) $24.5 M $86.8 M
3 Tron: Legacy (PG) $18.3 M $130.8 M
4 Yogi Bear (PG) $13.0 M $66.1 M
5 The Chronicles of Narnia: The Voyage of the Dawn Treader (PG) $10.5 M $87.1 M
6 Tangled (PG) $10.0 M $168.0 M
7 The Fighter (R) $10.0 M $46.4 M
8 Gulliver's Travels (PG) $9.1 M $27.2 M
9 Black Swan (R) $8.5 M $47.4 M
10 The King's Speech (R) $7.6 M $22.8 M