'Fockers' & 'True Grit' Lead X-Mas Box Office
Christmas weekend was a tough one at the box office with overall revenues down 45% vs. the same weekend a year ago.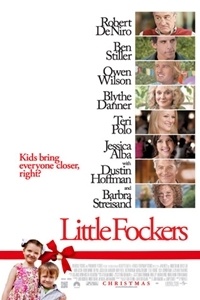 The latest installment in the successful comedy franchise that started 10 years ago, Universal's Little Fockers is poised to bring yet another number one debut home for Ben Stiller and Robert DeNiro.  Meet the Parents was the 7th highest grossing release of year 2000 earning $166.2 million in the wake of a weekend debut of $28.6 million.  Its sequel, 2004's Meet the Fockers switched to the holiday season by opening on Wednesday December 22 and earned $46.1 million in its first weekend and a whopping $70.5 million in its first five days on its way to becoming the 4th highest grossing film of that year with $279.2 million.  This latest Fockers landed between the first two with $34 million for the weekend and $48.3 million in its first five days.
True Grit is a very worthy re-make of the 1969 film starring John Wayne as the crusty Rooster Cogburn, Glen Campbell as La Boeuf, Jeff Corey as Tom Chaney and Kim Darby as Mattie Ross.  The Coen Brothers make a very faithful adaptation of the Charles Portis novel while paying homage to the original film and at the same time putting their signature visual stamp on the film.  With Jeff Bridges as Cogburn, Matt Damon as La Boeuf and Josh Brolin as Tom Chaney and incredible newcomer Hailee Steinfeld as Mattie Ross, True Grit is an Oscar contender for sure and has been on the top of many a moviegoer's must-see list for months.  A much bigger-than-expected debut of $25.6 million for the weekend and an impressive $36.8 million for the Wednesday through Sunday time frame make this one a true winner.  Look for "True Grit" to be a long term performer at the box office well into 2011.
Last weekend's number one film Tron: Legacy from Disney landed in the third spot with $20.1 million over the Christmas weekend and is now closing in on the $90 million mark.  The action sci-fi film has done well all mid-week with impressive daily grosses is maintaining a solid audience base through the holidays.  Interestingly this gave Jeff Bridges a rare opportunity to become Mr. Box Office with the number two and three films for the weekend.
Fourth and fifth place saw two PG-rated family films going at it with Fox's The Chronicles of Narnia: The Voyage of the Dawn Treader in its third weekend earning $10.8 million and Warner Bros.' Yogi Bear right behind it with $8.8 million.  Both films gave kids and families a great option for their post and pre-Christmas shopping entertainment.  Of course this bottleneck also included the second week of wide release for Paramount's The Fighter which continues to draw accolades across the board and earned $8.5 million for the weekend and a domestic total that is closing in on the $30 million mark.  Another newcomer in the mix is Twentieth Century Fox's Friday opener Gulliver's Travels starring Jack Black earning which opened in the seventh spot with $7.2 million.
In specialized film news, Weinstein Co.'s brilliant The King's Speech expanded into 700 theatres nationwide on Christmas Day and cracked the top 12 earning $4.5 million as Sophia Coppola's "Somewhere" earned over $20,000 per theatre in its 7 theatre debut.
Lionsgate's Rabbit Hole ended XMAS day with a gross of $40,792 in 34 locations ($1,200 per theatre).  A 3-Day weekend gross of $95,200 lifts the overall total for the film through Sunday to $176,000. 
A 45% downturn vs. Christmas weekend a year ago sets up a slow end to the box office year of 2010 as specialized films and Oscar contenders reap the benefits of a lack of enthusiasm for the mainstream blockbusters.  This was an important weekend at the movies as the year draws to a close, the final wide releases enter the marketplace and Oscar contenders continue to make their mark and impress audiences.
Weekend Box Office
Top 10 Movies – For Weekend of December 24, 2010 – Estimates
        Movie                      Weekend              Total
1     Little Fockers (PG-13)     $34.0 M     $48.3 M
2     True Grit (PG-13)     $25.6 M     $36.8 M
3     Tron: Legacy (PG)     $20.1 M     $88.3 M
4     The Chronicles of Narnia: The Voyage of the Dawn Treader (PG)     $10.8 M     $63.9 M
5     Yogi Bear (PG)     $8.8 M     $36.8 M
6     The Fighter (R)     $8.5 M     $27.6 M
7     Gulliver's Travels (PG)     $7.2 M     $7.2 M
8     Black Swan (R)     $6.6 M     $29.0 M
9     Tangled (PG)     $6.5 M     $143.8 M
10     The Tourist (PG-13)     $5.7 M     $41.2 M