For Your Consideration: Dr. No, the First Bond Movie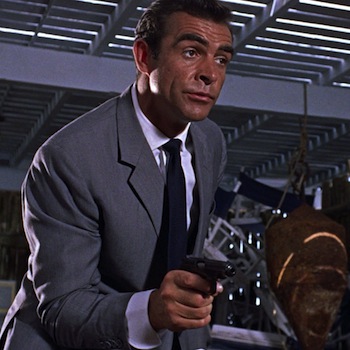 James Bond, and his sundry exploits, represents the longest-running franchise in cinema history. Based initially on the novels by Ian Fleming, the Bond films have become a major part of basic film knowledge as well as a pop culture phenomenon. Even if you have never seen a single Bond movie, you're familiar with his signature introduction, his womanizing habits, and his 007 handle. Heck, you even know how he takes his martinis.
While we wait for the latest James Bond adventure to hit theaters (which will effectively be the 23rd entry into the franchise) we can go back to the beginning, the very first James Bond film, Dr. No, which Netflix has just added to Watch Instantly. Here's why we think you should consider adding it to your queue.
Who Made It: Dr. No was directed by Terence Young who would go on to helm two more Bond films: From Russia with Love and Thunderball. He also directed Wait Until Dark, one of my favorite thrillers of all time.
Who's In It: Sean Connery, who was not only the first actor to play Bond, but remains the standard by which all other Bonds are judged.
What's It About: A British operative stationed in Jamaica goes missing and is assumed dead. In response, British Military Intelligence sends their best double-0 agent (those granted a license to kill) to investigate. In the course of his inquiries, he discovers a connection between the agent's disappearance and a reclusive scientist conducting bizarre experiments on his private island.
Why You Should Watch It:
It is fascinating to watch Dr. No in retrospect and note how the franchise works to find its rhythm. In terms of structuring, there is a well-established formula to the Bond films. They begin with the first few notes of Monty Norman's James Bond theme as we see Bond appear through the barrel of a gun. Then we are treated to a few scenes of prologue followed by a smash cut to a wildly, visually stunning title sequence featuring the film's titular song. But Dr. No's gun barrel sequence starts with strange sci-fi blips and beeps and then goes right into the title sequence without the luxury of a titular song. It is amazing to watch the basic DNA of the James Bond series struggle to come together right before your eyes.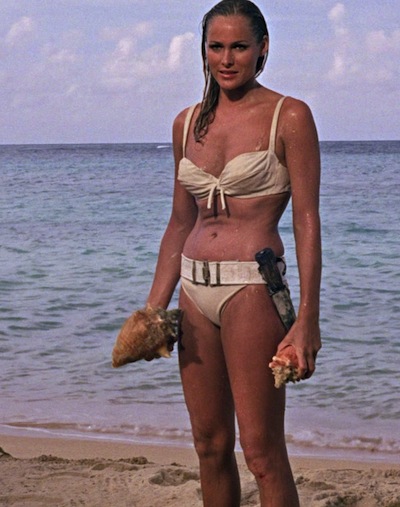 There is a good reason Sean Connery's James Bond is the undisputed favorite of so many fans. From a purely cinematic standpoint, Connery exudes charisma and the camera absolutely loves him. He's a suave, sophisticated secret agent who more than adequately brings Bond's proficiency for sexual conquest from Fleming's novels to the screen. But while Connery demonstrates a true knack for charm and wit, he is also a cold, calculated killer for the British government. The scene wherein he shots a defenseless foe after obtaining from him the information he needs is brutal.
One of the things that makes Dr. No one of the most memorable and indelible films of the franchise is a barely-dressed Swiss beauty named Ursula Andress. The legacy of Bond films are just as beholden to their revolving catalog of Bond girls as they are to the villains or the actors who played James. Andress' Honey Rider (you've got to love those sexually suggestive names,) creates the perfect Bond girl prototype that would serve as an exemplar for all his subsequent ladies. She immerges from the water and onto that beach like Venus in that iconic white bikini. She is stunning beyond belief, but she is also a strong independent woman. She is quick to action when she feels threatened and knows considerably more about surviving the terrain than her male secret agent companion.
In addition to all of the built-in greatness of Dr. No, the HD stream on Netflix adds a whole new layer of appreciation to the film—the movie looks beautiful. Special side note, pay close attention to the scene wherein Maj. Boothroyd is giving Bond his equipment. Maj. Boothroyd is actually the real name of Bond's long time tech guru Q; marking the first and only time in the entire franchise that Q was not played by Desmond Llewlyn.