For Your Consideration: New Year's Evil on Netflix Watch Instantly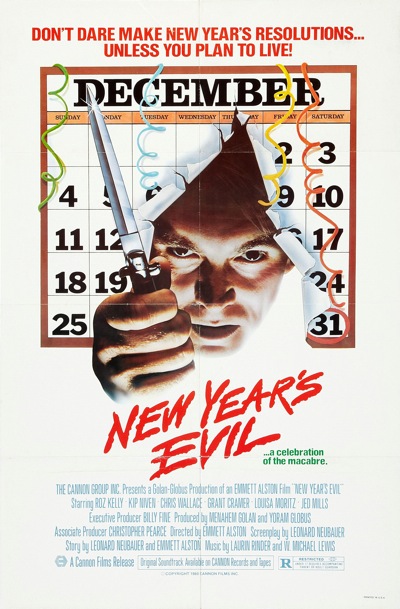 Another year draws to a close. 2011, we barely knew ye.
In preparation for the coming 2012, you are no doubt scurrying about the house, making sure you have a well-stocked liquor cabinet, preparing the appetizers, and trying to decide with which noisemakers your drunk relatives will least likely hurt themselves. But, if you find a moment to yourself during all this madness, perhaps you would fancy a viewing of something from Netflix's Instant Watch service to help you adequately ring in the New Year.
We hope you'll consider selecting 1980's New Year's Evil.
Who Made It: New Year's Evil was directed by Emmett Alston. If his is not a name you're familiar with, that's actually to be expected and perfectly acceptable. Alston did little outside of New Year's Evil, but his other important contribution to the world of B-cinema was the classic 1985 Sho Kosugi film Nine Deaths of the Ninja.
Who's In It: Here again, not much to report. But then, this is not a film we are going to sell you on based on the names attached. We'll get to that in just a moment. The film's biggest star is Roz Kelley who is best known, or at least better known, for her recurring role as Pinky Tuscadero on the TV series Happy Days.
What's It About: When a local punk-rock personality throws a big New Year's bash (dubbed New Year's Evil), she goes all out. She takes over a swanky hotel, brings in the hottest bands, and links the party to New Year's celebrations in several other time zones just so they can ring in the New Year multiple times. But just as things are really starting to get rolling, she receives a threatening phone call from a man with a distorted voice calling himself evil. He claims that he plans to kill one person at the stroke of midnight in each time zone; the last victim to be the host herself. Is this just a hoax, or will this be the last New Year she sees?
Why You Should Watch It: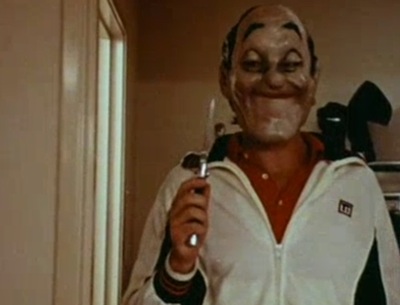 One of my favorite sub-species of the horror genre is the holiday horror film. Over the course of the genre's history, nearly every conceivable holiday on the calendar has been bloodily repackaged and sinisterly repurposed to provide the most festive of shrieks and the most terrifying of season's bleedings. Outside of John Carpenter's Halloween and Bob Clark's Black Christmas, holiday horror films do not enjoy a reputation for high quality. In spite of its low-budget, routine slasher trappings, I would argue that New Year's Evil is among the best of the lesser-known holiday horror films.
For those who demand camp of their '80s slasher films, rest assured New Year's Evil is well equipped to satisfy even the most scrutinizing of B-movie palates. Most of the characters are one-dimensional, the dialogue is uproariously bizarre at its best and hysterically flat at its worst, and it is filled to the brim with brain-dead punkers flopping around on the dance floor like dying fish. However, the film also features a deviously clever concept allowing for genuine surprises and a more authentic killer—more Ted Bundy than Jason Voorhees. The cinematography is playful and more adept than it has any right to be; at one point cleverly drawing an apt parallel between the goofballs in the mosh pit and the inmates of an asylum. The film also features a soundtrack packed with weird, wonderful rock tracks and, for some reason, slow love songs. The title track is an out-of-control, fist-pumping power anthem that is sure to have you screeching along. "New Year's Eee-viiiiiiil!"
I won't deny that New Year's Evil is obscure; in fact it resides in a very special corner of the esoteric galaxy. However, this under the radar status (I know, now I'm mixing columns) is chief among the reasons you should give it a spin. This film has never seen the light of day on DVD, and its VHS versions are actually quite rare, making the task of obtaining a copy a rather expensive proposition. Therefore its recent addition to the Netflix Watch Instant catalogue marks the first time New Year's Evil has been this readily available for viewing. Make it your resolution to watch New Year's Evil, otherwise you'll be the one to drop the ball.