Tom Hanks Was In That? Really?
He's one of the most beloved film actors of all time, yet even Tom Hanks has made a few duds.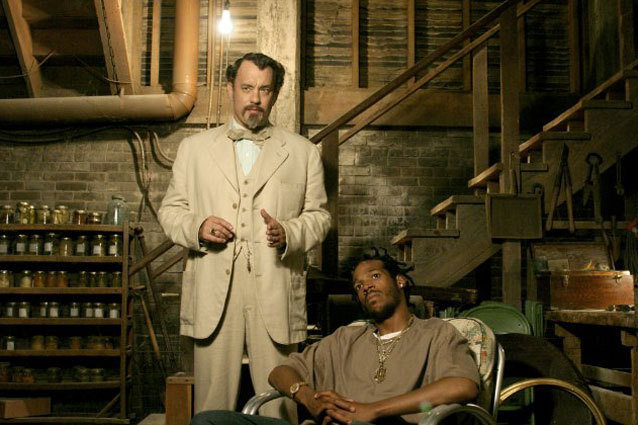 Touchstone Pictures
1. Bosom Buddies
Before he was nabbing Oscars for Forrest Gump and Philadelphia, Tom Hanks was dressing up as a woman on the short-lived early 1980s sitcom Bosom Buddies. You kids out there think I'm lying? The evidence is on YouTube.
2. Dragnet
In this parody of the '50s cop show, Hanks stars as a newbie detective alongside veteran funnyman Dan Aykroyd. Lucky for Hanks, the following year he would receive his first Oscar nod for Big.
3. The Bonfire of the Vanities
This film adaptation of the Tom Wolfe novel had no shortage of hype when it was released during the 1990 holiday season. However, not even Hanks could save this bomb from exploding. It would be another two years before the actor's career would fully recover.
2. Punchline
Hanks performed stand-up at various comedy clubs across Los Angeles in preparation for his role as an unfunny, angry comedian in Punchline. Although not a bad film, Punchline was overshadowed by the other film Hanks made that year called Big.  Perhaps you've heard of it?
1. The Ladykillers
Notice how this is the only film on the list made after 1990? That says a lot about how far Tom Hanks has come since his freewheeling days as just another Hollywood actor. In 2004, however, he starred in the Coen Brothers' black comedy The Ladykillers, a remake of a classic British farce from 1955. Never heard of it? Neither did anyone else, which is why The Ladykillers, despite receiving some decent reviews, was essentially dead on arrival.
More:
New 'Transformers 4' Pics Give Optimus Prime a New Look
'Pacific Rim' and the Evolution of the Monster Movie
Mark Wahlberg Stars in 'Transformers 4'
---
From Our Partners:


40 Most Revealing See-Through Red Carpet Looks (Vh1)


15 Stars Share Secrets of their Sex Lives (Celebuzz)