Four Cast Members Join 'Final Destination 5'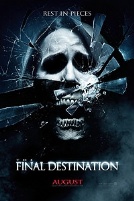 Welp, time for some new faces to die in really, really kickass ways.
Koechner (The Office, Anchorman) is the biggest name on the list. He's playing a clueless executive (imagine that!), and will probably die from a stapler to the forehead while galloping around the office, screaming "yeehawww!"
D'Agosto (Heroes) plays a guy who doesn't make a fast decision on his own life — which definitely doesn't sound like it ends well. Byrne (Dinner for Schmucks) will be an obnoxious kleptomaniac (who probably steals from death — haha! get it?); and Wroe (Huge) plays a snobby gymnast and daughter of a company executive — so yeah, she'll die pretty quick.