Fourth 'Pie' Aims for a Box Office Reunion Against 'Hunger Games'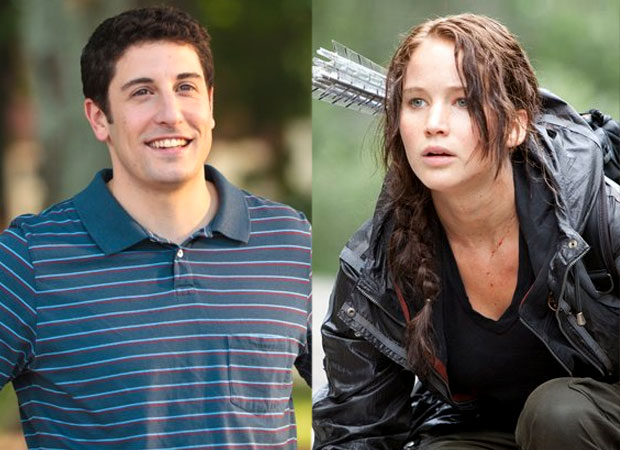 UPDATE: Hunger Games won the weekend box office battle with $33.5 million, crossing the $300 million mark in just 17 days. It beat American Reunion, which took in a solid $21.47 million and Titanic 3D, which took in $17.35 million.
ORIGINAL STORY: Back at the turn of the millennium, the American Pie franchise was money in the bank. Even American Wedding, which was outgrossed by its predecessors, still managed to cross the $100 million mark by the end of its theatrical run. This weekend, the fourth installment hits theaters, American Reunion, and it's a change of pace for the franchise. In the past, the Pie franchise successfully bowed in the summer months (American Pie 2 and American Wedding both dropping in August), but Reunion escapes the crowded blockbuster breeding ground for the safehaven of April — or so it it would like to think.
These days, every month is a blockbuster month, proven by the gargantuan take of teen sci-fi sensation The Hunger Games. The Lionsgate headlined by rising star Jennifer Lawrence has been gobbling up box office dollars like a District 12 citizen locked in a room full of cakes. The film rounded out its second weekend with a mind-blowing $251 million and, according to Hollywood.com Box Office Analyst Paul Dergarabedian, should pull in another high $20 million/low $30 million chunk of change to bring its 17-day total close to the $300 million mark.
Then there's American Reunion, which has its work cut out for it against the young adult fiction adaptation. But nostalgia burns brightly for the series, even a decade later, and the forquel is expected to add a little over $20 million to the franchise's existing $650 million worldwide total.
Speaking of nostalgia, director James Cameron's 3D conversion of his classic '90s Oscar-winner Titanic hit theaters on Wednesday, gathering up $4.3 million in its first day of release. This former highest grossing movie of all time (before being displaced by Cameron's own Avatar) should continue to be unsinkable, taking in $20 million over the weekend for a five-day total of around $30 million.
Rounding out the top five are last week's debuts, Wrath of the Titans and Mirror Mirror. The Clash sequel should top the fantasy film, hitting the $60 million mark by Sunday, while the Julia Roberts/Lily Collins Snow White tale should add another $10 million, thanks to the family movie-going magic of Easter weekend, for a total of $30 million.
So what are you seeing this weekend?
Find Matt Patches directly on Twitter @misterpatches and remember to follow @Hollywood_com!
More:
American Pie Franchise: Each Movie's Slice of Box Office Pie
Can Wrath or Mirror Mirror Take Down 'Hunger Games'?