Fox To Revive 'Frankenstein'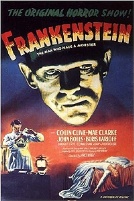 To exemplify how uncultured our times are, whenever I hear the word "Frankenstein," I think first of the kid from Big Daddy. Although I recognize that not everyone's as bad as I am, it's still probably a good thing that classic revivals are becoming more and more prevalent—and now it looks like the tale of the reanimated monster is on the list.
20th Century Fox is developing a Frankenstein film (the first since 1994), and putting the project in the hands of writer Max Landis, with John Davis on board to produce. There have been few details leaked about this project, but some sources have indicated that the story might be told from the perspective of Igor, Dr. Frankenstein's laboratory assistant. We also reported that Ron Howard may be taking the reins.
With a father whose achievements include Animal House and The Blues Brothers, Max Landis has been unfairly branded with a propensity to disappoint. Nonetheless, he's taken on some ambitious projects of late, including a sci-fi drama called Chronicles, about friendships torn asunder between superheroes. And now, one of the most celebrated pieces of literature.
And that's precisely what he needs to do to break the mold. "Dad brought Prince Akeem to Flushing? Fine. I'll bring a corpse TO LIFE." I'm behind you all the way, Landis. Make the Sprouse twins proud. Also, Mary Shelley.
Source: Hollywood Reporter