Fox Wants 'Zorro Reborn' In The Future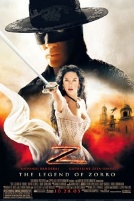 In 1998, moviegoers had a blast from the past with The Mask of Zorro, a swashbuckling, sword-swinging revamp of Johnston McCulley's pulp hero. But its 2005 sequel failed to fuel the fire for more franchise entries and so Columbia Pictures stopped making those movies. Move over Sony; Fox is here to reboot the series once again. The LA Times reports that the studio behind blockbuster franchises like X-Men and Avatar wants to have its way with Zorro, and that means a total overhaul – into the future.
According to the source, 20th Century Fox has a script for Zorro Reborn from Lee Shipman and Brian McGreevy, the screenwriters behind the Dracula reboot Harker at Warner Bros. It would focus on a new, a one-man vigilante force bent on revenge in a desolate, post-apocalyptic setting. Western influences like the works of Sergio Leone and the Coen Bros. No Country For Old Men are being used to describe the tone of the project and make it sound cooler than it probably is.
Apparently, Zorro Reborn is further down the development line than I'd believe it to be (having just heard about this project today). Fox has already set pre-viz whiz Rpin Suwannath to direct, which starts a trend of hiring VFX geniuses to helm big-budget tent-poles (the studio recently locked Tim Miller, a noted special effects guru, into directing X-Men spin-off Deadpool). While that ensures that the film will look spiffy, it doesn't give me much hope about how its story will be told.
I'm of the opinion that writer/directors often make the best filmmakers because of their dedication to character and carefully planned plot points. There are, of course, many, many exceptions, but my fear is that Suwannath will sacrifice his story for flashy set pieces and CG-heavy action sequences. Zorro needs plenty of action, no doubt, but what I loved about Martin Campbell's films were their throwback approach to filming. Less computers, more acting, stunts, etc. That's what this character needs. Unfortunately, with a film set in the future – even a dystopian future – I'm afraid that Zorro Reborn will be more Sci-Fi than Western.
I'm also afraid that Fox will whitewash the masked vigilante as Hollywood has done with every other foreign-born character. Warner Bros. has been faced with plenty of heat as it casts its Akira adaptation and Paramount got creamed over the actors it hired for The Last Airbender. Hopefully Fox will learn from these mistakes and stay true to Zorro's roots, but I'm not holding my breath.
Source: The LA Times