Steve Carell Is Chilling in 'Foxcatcher' Trailer as Film Is Bumped to 2014
The first trailer has been released for the drama Foxcatcher, the true story of John du Pont (Steve Carell), a mentally unstable millionare who took an Olympic wrester (Channing Tatum) under his wing only to end up murdering the wrestler's brother (Mark Ruffalo) in 1996. The trailer is both chilling and serious, two words that are not often used to describe Carell's acting style. 
While the trailer has received positive views since its release, Sony has decided to bump the movie from its initial Dec. 20 release to an unknown date in 2014 in support of  "the decision of the filmmakers to allow for more time to finish the film," according to Entertainment Weekly.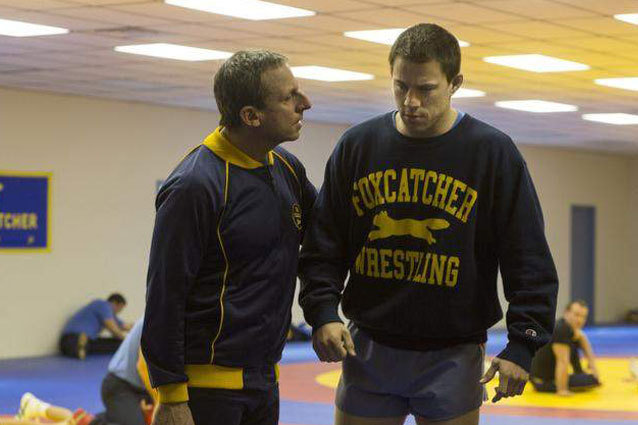 Sony Pictures Classics
The move to push back the movie's release date is not unexpected. Earlier this week, the Weinstein Co. moved the release of Nicole Kidman's Grace of Monaco from 2013 to later in 2014, pulling it from this year's Oscar race. The Wolf of Wall Street has also been attached to rumors of rescheduling. With all of the strong contenders in this year's possible lineup of Oscar nominees, more movie releases may be delayed. However, it is interesting that Foxcatcher has removed itself from the race considering that the film is directed by Bennett Miller (Moneyball and Capote), someone who knows the Oscars well, and the fact that there have been talks of Carell's performance landing him an Oscar nod.
More:
Steve Carell Goes Dark for 'Foxcatcher'
Channing Tatum to Join Steve Carell in 'Foxcatcher'
'Grace of Monaco' Bumped to 2014 Thanks to Oscar Politics
---
From Our Partners:

A Complete History Of Twerking (1993-2013) (Vh1)


15 Stars Share Secrets of their Sex Lives (Celebuzz)