Frank Grillo Will Face Off Against Chris Evans in 'Captain America 2'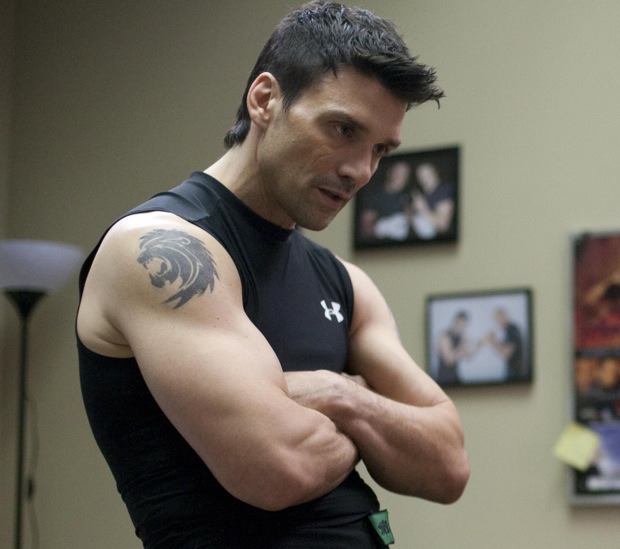 Even with Iron Man 3 in the can (and looking explosive in all the right ways) and Chris Hemsworth currently in the UK battling former Doctor Who star Christopher Eccleston in Thor: The Dark World, eager Marvel fans still have one movie chock full of secrets to provoke the imagination: Captain America: The Winter Soldier. Formally announced at this year's San Diego Comic-Con, little has been solidified on the Captain America sequel, which is prepping to shoot under the direction of Community executive producers Anthony and Joe Russo to make its April 4, 2014 release date.
Now, it seems super soldier Steve Rogers has a new opponent to take on in Winter Soldier (besides the titular soldier, an assassin who has a connection to a past Captain America character).
Warrior and The Grey star Frank Grillo has officially been cast as one of Captain America's foes, Crossbones, in the upcoming Marvel follow-up. After much speculation — in a now-deleted tweet from last week, Grillo announced that he had auditioned for the film — the actor has confirmed the news:
Thanks all!! Couldn't be happier to join the Marvel family. Great people. Great character and. My kids will freak out best of all. #grateful
— frank grillo (@FrankGrillo) October 29, 2012
In Marvel comics, Crossbones has spread villainy in nearly every way possible, from heading up a New York City crime syndicate to working has a henchman for Red Skull, the villain of Captain America's first big-screen outing.
Filling out the Captain America 2 roster, Variety reports that Samuel L. Jackson, Cobie Smulders and Scarlett Johansson are all expected to return as agents of S.H.I.E.L.D., while Anthony Mackie is locked for a role as Steve Rogers' ally, The Falcon.
Grillo has duked it out with MMA fighters and held off a pack of wolves with only a torch and homemade weaponry. Can he go head-to-head with Captain America?
[Photo Credit: Lionsgate]
Follow Matt Patches on Twitter @misterpatches
More:
'Captain America 2' Casting Rumors: 5 Ladies Up For Role, Plus a Black Widow Cameo?
UPDATE: 'Captain America 2' Helmed by 'Community', 'Arrested Development' Directors
Anthony Mackie as 'Captain America 2': First Falcon, Then the (Marvel) World!
From Our Partners:

Exclusive New 'Twilight: Breaking Dawn' Trailer!
(Moviefone)

(Moviefone)